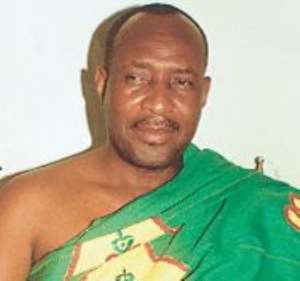 A traditional ruler, Nana Opeabre Awua Asiedu I, has reconstructed a one-kilometre road near the Rocky International School, Achimota, at a cost of GH¢40,000 from his own resources.
Nana Asiedu, who is the Benkumhene of Suhum in the Eastern Region, reshaped the deplorable road, filled it with soil, constructed drains along it and resealed it by applying first and second coating of bitumen on the road.
Conducting newsmen round the road on Tuesday, Nana Asiedu, who is a philanthropist, said considering the bad nature of the road, he approached the residents of the area to contribute financially to tar it to make it motorable.
He said when he did not receive any favourable response from the people, he decided to develop the road personally because apart from vehicles getting stuck in the mud during the wet season, the dust created by the vehicles during the dry period posed a health hazard.
Nana Asiedu stated that he contacted the Ga West District Assembly on the project, and the assembly gave him its blessing and even released its engineer, Mr Frederick Asare, to supervise the road contractors undertaking the project, since he had no technical expertise.
He said since he tarred the road in March, this year, motorists and passengers who abandoned the route because of its bad nature had started using it.
The chief stated that to check speeding by motorists with its attendant dangers to pedestrians, especially schoolchildren, he had constructed speed ramps on the route.
He promised to reseal the few potholes that had developed on the road.
According to him, he had planned to assist a number of poor and needy people in the area, as well as rehabilitate some orphanages in Accra and help in developing the Suhum Government Hospital to enable it to render improved services.
When Mr Asare, the engineer of the Ga West District Assembly, was contacted on the road project, he confirmed that Nana Asiedu single-handedly reconstructed it under his (Asare's) supervision.
He described the chief as a philanthropist who was committed to the welfare of his people.
He stressed that Nana Asiedu deserved tonnes of praise for embarking on the project and urged other well-to-do people in society to take a cue from him.
A number of taxi drivers and some residents in the area interviewed by the Daily Graphic were full of praise for Nana Asiedu for his commitment to the development of the area.
Story by Samuel Kyei-Boateng