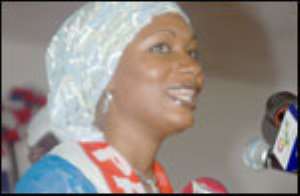 THE 29-YEAR-OLD wife of Dr. Mahamudu Bawumia, running mate of the New Patriotic Party (NPP), Samira, has taken the party's campaign to another level, targeting the youth and women electorate as well as members of the People's National Convention (PNC), the party of which her father is the National Chairman.
Samira, a beauty contestant-turned-politician, and the only daughter of Alhaji Ahmed Ramadan, the PNC National Chairman, has called on her father's party to support the NPP for the 2008 elections.
She noted that Dr. Bawumia's nomination as the NPP running mate is a demonstration of the party's belief in the youth of the country and the commitment to empowering them for a better future.
Samira, a Zongo girl who read a BA Social Science in Law and Sociology at the Kwame Nkrumah University of Science and Technology (KNUST), is enthused about following her husband from one community to another, propagating the NPP message of a better Ghana.
"I'm looking forward to meeting people and seeing at first-hand what people's problems are. My husband is a very warm and compassionate person – he's always thinking of how to better everybody else's lives; so it is a good opportunity for us to learn what other people are going through and get first-hand information.
"For him, this is not about just being Vice-President; it is about being in a position where you can bring greater good to the people. It is consistent with how we feel and how we want the world to be a better place and the country a better country," she explains.
This concern for the issues and problems facing ordinary Ghanaians is clearly a characteristic Samira shares with her husband and one which drew her to him when they first met in 2003.
Samira cut her teeth in Islamic education at the Answarudeen Islamic School right in the National Chief Imam's sacred palace at Fadama in Accra, before she proceeded to the Akosombo International School and then Mfantsiman Secondary School.
She grew up as the only daughter around five brothers at a time her father, Alhaji Ramadan, was a banker with the Ghana Commercial Bank.
While in school, she was an open-minded and exceptionally social person who earned herself a reputation as a good sports and entertainment girl.
Samira first met Dr. Bawumia in May of 2003 and they married nine months later in February 2004 at a time both did not have the slightest dream of being in frontline politics.
She gave the banker a daughter in December of the same year and they chose to name her Nadia. Two years later, they had another baby boy and named him Mahmoud Junior.
Samira, who grew up in a cosmopolitan environment, picked up several languages including Ewe, Ga, Twi and Fanti. Currently, she is learning her husband's native tongue - Mamprusi.
In an earlier interview with DAILY GUIDE, Alhaji Ramadan had said he was honoured that the husband of his only daughter had been elevated to the position of the running mate of the largest political party in the country.
Reports say Samira has already wooed many of her hard-line family members from her father's PNC to her husband's party, NPP.
Interestingly, the current Vice-President, Alhaji Aliu Mahama is married to the daughter of the late Alhaji Imoro Igala, Chairman of the Dr. Limann-led People's National Party which metamorphosed into the PNC.
Political pundits have observed that if the NPP wins the December polls, history would have been repeated, as it would be the second time that the Limann party is providing a wife for a Vice President of the NPP.
By Halifax Ansah-Addo