I'll Work To Develop Korle-Bu – Prof. Nartey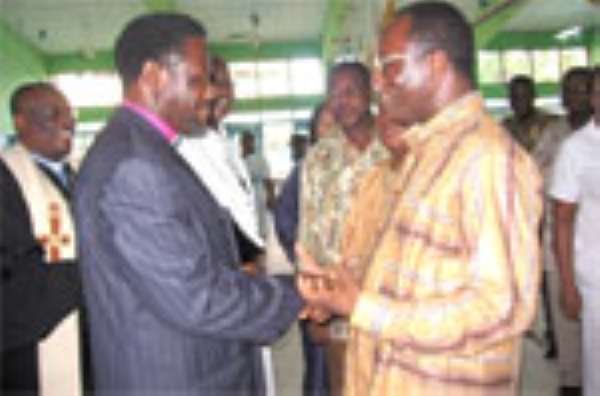 THE NEWLY appointed Chief Executive Officer of the Korle-Bu Teaching Hospital, Professor Nii Otu Nartey has pledged to do everything in his capacity as the head of Korle-Bu to ensure that the facility's desire to attain excellence in healthcare delivery was achieved.
He is therefore calling on the entire workforce of the hospital to give him the needed support to enable him realise this dream.
Speaking in an interview with HEALTH MATTERS at a religious ceremony to formally celebrate his appointment as the new CEO, Prof. Nartey said though Korle-Bu had made some strides over the past few years spearheaded by his predecessor, Prof. Kwabena Frimpong-Boateng, a lot more needed to be done in terms of infrastructure and the delivery of quality healthcare.
He said he was ever ready to use his rich experience in the field of health to work towards helping Korle-Bu reach the highest pedestal.
This, he however noted, could not be attained without the full support of staff members whose contribution was required at this crucial instance.
He for instance mentioned the yet-to-be-started renovation work on the Maternity Department, the cost of which he said currently stands at about US$1.2 million.
"Management is presently looking at ways of generating an amount of GH¢600,000 in addition to what the management of MTN granted us to enable us complete work on the second floor of the Maternity Department.
"I'm appealing to every staff member of Korle-Bu, especially the various departmental heads to join hands together to enable us generate the needed funds to complete this noble and all other remaining projects in order to realise the vision of this great hospital."
Work on the block, he said, was expected to commence later this month.
He indicated that when completed, two more additional theatres would be in full operation, thereby cutting down on the time spent by expectant mothers at the hospital, adding; "The main challenge here is how fast we can generate the required revenue".
Earlier in a sermon entitled 'God the Help of Those Who Seek Him', the Rt. Rev. Titus Awortwi-Pratt, Superintendent Minister in-charge of the Dansoman Circuit of the Methodist Church of Ghana, asked Prof. Nartey to seek God's direction in all his endeavours, stressing that was the only way by which his dreams of making Korle-Bu a centre of excellence could be realised.
The Reverend Minister further asked the new Chief Administrator to execute his duties satisfactorily so as to win the support and admiration of all.
He asked for God's favour, protection and spiritual guidance for him in all his undertakings.
"May God show forth His grace upon you and fortify you to face the task ahead of you with ease," he prayed.
By Grace Dartey