Ataabadze 'Coke' Men Before Court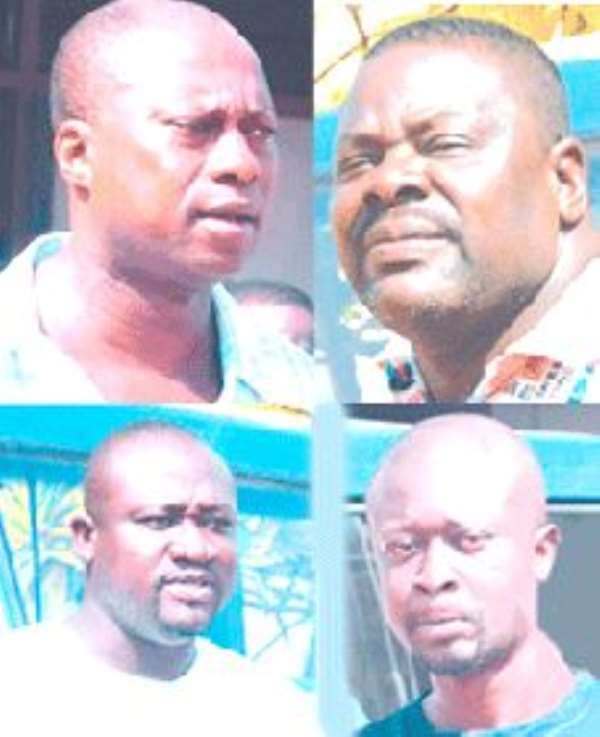 Four persons who were caught in possession of 380 parcels suspected to be cocaine at Ataabadze Junction in the Central Region were yesterday arraigned before the Accra Circuit Court.
The substance, which was concealed in 19 travelling bags, was intercepted on June 29, 2008 by personnel of the Cape Coast Regional Motor Traffic and Transport Unit (MTTU) of the Ghana Police Service who were on duty.
The four — Samuel Agoe Mills Robertson, 49, auto mechanic; Derick Armah Kwarteng, 48, civil/cable contractor; David Agyemfra, alias Chukwu Owura, 30, herbalist and orthopaedic specialist, and Charles Lartey, 33, trader — were remanded to reappear on July 17, 2008 to enable the police to conduct further investigations into the matter.
Two others, namely, Mike Ben, alias Osu, and Javi, a Colombian, are on the run.
The accused persons were each charged with two counts of conspiracy and possessing narcotic drug without lawful authority.
Their pleas were not taken. Presenting the facts of the case, Assistant Superintendent of Police (ASP) Mr George Abavelim informed the court that on June 28, 2008, Robertson allegedly sought Kwarteng's services to carry cocaine from Asankragua in the Western Region to Accra for a fee of $40,000, to which Kwarteng agreed.
Robertson allegedly recruited Agyemfra and Eben as escorts for the drug haul.
According to the prosecution, on that same day, Robertson used his private car, a Toyota saloon car, with registration number GW 31 Z, to convey Agyemfra and Eben to Asankragua, where they met Kwarteng at the Melody Hotel.
At the hotel, Kwarteng allegedly handed over his (Kwarteng's) private car, a Toyota 4 Runner, with registration number GR 1204 Y, which was loaded with 19 travelling bags, each containing 20 slabs of cocaine, totalling 380 slabs, to Robertson and his escorts.
The prosecution said Kwarteng then took over Robertson's saloon car, while Robertson drove Kwarteng's Toyota 4 Runner, with Agyemfra and Eben staying on board as security escorts.
The three allegedly stayed overnight in Takoradi and continued their journey the following day, June 29, 2008.
On their way they were intercepted at Ataabadze Junction on the Cape Coast highway by police officers of the Cape Coast Regional MTTU who were on duty.
Robertson was arrested but Agyemfra and Eben escaped into a nearby bush. A search conducted in the vehicle revealed 19 travelling bags containing 380 slabs of a whitish powdery substance suspected to be cocaine.
Robertson was then taken to the Regional Police Command for interrogation and at a point he offered to pay $6,000 to the police in exchange for his freedom.
The police feigned interest and encouraged him to call Lartey, who was then in Accra, on phone to bring the said $6,000 to Cape Coast.
Lartey was, however, arrested when he got to the Police Command and a search conducted on him revealed 60 pieces of 100 dollar bill notes, totalling $6,000, as well CFA 220,000.
The prosecution informed the court that Agyemfra and Kwarteng were later spotted at the police station premises in Robertson's saloon car, with registration number GW 31 Z.
According to the prosecution, the two were subsequently arrested on suspicion of being accomplices.
The prosecution prayed the court to remand the accused persons, since investigations were ongoing to ascertain the source of the drugs, as well as arrest other accomplices.
It said the substances had since been forwarded to the Ghana Standards Board (GSB) for testing.
Story by Mabel Aku Baneseh