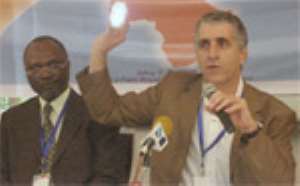 Approximately 1.7 billion people worldwide are without electricity. When the sun goes down and night falls, the option of simply flicking on a light switch does not exist for them.
In Sub-Saharan Africa, the problem is particularly acute, where as many as 90 percent of the rural population and 74 percent of the total population lack access to electricity.
According to a World Bank report, over 500 million people in Sub-Saharan Africa presently lack modern energy, with rural electricity access rates as low as two percent.
Without modern lighting, these individuals rely on traditional forms of energy- biomass, charcoal, candles or, most commonly, fuel-based sources such as kerosene and paraffin to meet their lighting needs.
Fuel-based lighting is a costly and inefficient lighting option, and often consuming between 10 to15 per cent of annual income, forcing the poorest families to divert essential funds away from other critical needs such as children's education, family health care and nutrition.
The expenditures of fuel based lighting in the region have been estimated by the World Bank at $17 billion.
Fuel-based lighting also induces significant environmental and social costs, contributing to increases in greenhouse gas emissions and indoor air pollution, impairing human health, jeopardizing safety, and limiting overall productivity.
Today, with oil prices at record levels, poor householders are foregoing or reducing their use of poor quality fuel-based lighting. Reports are emerging that the impacts are far greater than a dwindling of their quality of life. Education of children, health, security, and income are all being adversely affected.
Compounding this problem, the current range of technologies are limited in their ability to meet the needs of the African consumer and have yet to effectively reach certain market segments, especially the rural poor, with affordable off-grid solutions.
Although substantial evidence points to the promise of a significant market opportunity for off-grid lighting in Sub-Saharan Africa, with expenditures topping $17 billion in fuel-based lighting, the global lighting industry has, by and large, been unable to penetrate this market area and take advantage of this unique opportunity.
This is due to a number of hurdles identified by the industry, such as a lack of sufficient information to realize the market potential and define the needs of the African consumer and the inability to access partners across the supply chain and identify effective distribution channels to reach a range of African consumers across the continent.
The Lighting Africa Business Conference which ended yesterday in Accra was however created to help entrepreneurs across the world innovate and deliver affordable, reliable, sustainable lighting products to the African marketplace.
The conference is a joint International Finance Corporation (IFC) and World Bank initiative which seeks to provide modern lighting to the 250 million people in Sub-Saharan Africa who lack access to electricity, by 2030.
Working in consultation with the global lighting industry, Lighting Africa seeks to reduce key market barriers by working with public and private partners across a variety of sectors to reduce transaction costs, mitigate market risks, improve quality and promote commercial responsibility.
"The Lighting Africa 2008 Conference is built upon Lighting Africa's commitment to support the global lighting industry in penetrating the market, providing the first venue for face-to-face interaction between the various industry players across the supply chain, and providing a place to showcase the latest innovative ideas for delivering off-grid lighting to African consumers," World Bank Ghana Country Director, Ishac Diwan said at the opening of the conference on Tuesday.
The conference also provides the first opportunity to unveil Lighting Africa's preliminary market research findings and engage the private sector to determine the best paths for future collaboration.
The Programme Manager of Lighting Africa Ghana's Regional Office, Cyril Kattah, stated: "Expected benefits are improved services for consumers, enhanced job creation, and improved quality of life so that when the sun goes down and night falls upon the continent, light will continue to shine in the lives of millions."
By Felix Dela Klutse