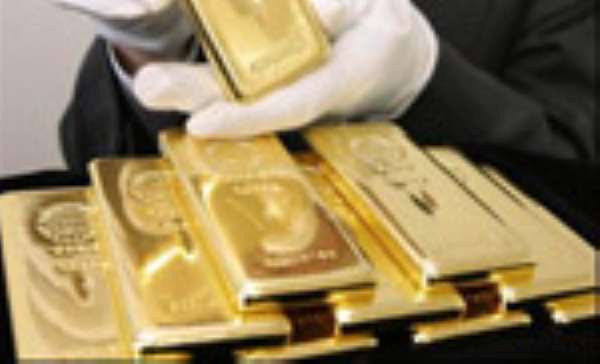 AngloGold Ashanti Ltd, the world's third biggest gold producer, posted a jump in earnings and said it plans to raise around 11.9 billion rand ($1.6 billion) through a rights offer of new stock.
In a statement yesterday, the company posted 37 U.S. cents in first-quarter adjusted headline earnings per share versus 6 U.S. cents, reflecting accounting adjustments and a higher gold price, even as output fell on a power crunch.
Adjusted headline earnings for the quarter were $105 million, compared with $18 million in the previous quarter, which was distorted due to annual accounting adjustments, the company said on Tuesday.
AngloGold also said it would seek an estimated 11.9 billion rand through rights offer to improve its financial position.
The mining group noted that it would issue about 69.4 million shares and use the proceeds to restructure and reduce its hedge position and to fund development and exploration projects.
Production for the quarter to end-March reached 1.2 million ounces, 9 percent higher than a forecast issued in Feb. 2008.
Total cash costs came in at $430/oz, significantly below guidance, but 6 percent higher than the previous quarter following reduced production due to the power shortage.
South Africa's mines were hit by a power blackout as the electricity grid came to a near collapse, forcing their operations to cease for five days in January and thereafter to resume at below capacity.
Power utility Eskom increased power supply to AngloGold to 96.5 percent from 90 percent in late March 2008.
Subject to the power stability and availability at 96.5 percent level, 2008 output is expected to rise to a range of 4.9 million ounces to 5.1 million ounces.
This compares to prior guidance of 4.8 million ounces to 5 million ounces.
AngloGold also cut its hedge book, one of the biggest among its peers during the quarter. Its net delta hedge reduced by 1.13 million ounces to 9.26 million.
By Felix Dela Klutse