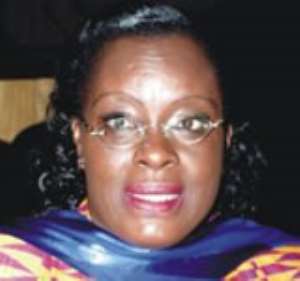 Ms. Gloria Akuffo says she finds Dr. George Sipa Yankey's claims very unfortunate and that they cannot be correct.
She was called on phone on Joy FM's Current Affairs programme, News File, to respond to remarks made by the former public servant to the effect that the judgement that sent him to jail over the Quality Grain case was written at the Castle for the Late Justice Afreh.
She disputed the claims and said even though she was responding to the issues, she was doing so reluctantly. She said she was doing so against her principles as a lawyer which was not to make comments on a subject when an authoritative decision has been made on a case.
She also said that if a decision has been made, there is always an opportunity to seek a review by way of an appeal.
She said the judgement is available for everyone to see.
She said Dr. Sipa Yankey is her friend and still remains her friend.
She however disputed his claim that attempts were made to get him to implicate former President Rawlings in the case. "I consider that very, very sad," she said.
She revealed that Dr. Yankey made efforts through one Mr. Newman to see the Attorney General and the matter was referred to her.
She said in matters like these an accused could come forward to say he was prepared to be a witness in the case so he could get a lesser sentence.
She said when she met with him, he made complaints to her about how he has served the state and now he was being tried.
She said his claims that the judgement was prepared and given to the Late Justice Afreh cannot be correct, and if he says so, she is not aware of that.
Ms. Akuffo insisted that it was wrong to make such suggestions when Justice Afreh is not around himself. She said of him, " He was a very fine judge."
Commenting on the issue of Justice Afreh's promotion to the Supreme Court, she said she recalled that the Minority Leader in Parliament said they were boycotting Justice Afreh's vetting not because of his competence but because of the timing.
On April 28, 2003, Dr. George Sipa Yankey was sentenced to two years' imprisonment along with Ibrahim Adam, Former Minister of Food and Agriculture, while Kwame Peprah, Former Minster of Finance and Economic Planning was sentenced to four years' imprisonment for causing financial loss to the state.
By Emmanuel K. Dogbevi