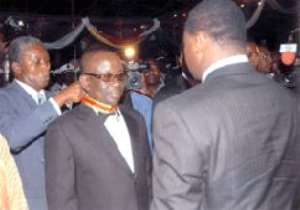 President Faure Ezzozimna Gnassingbe of Togo at the weekend conferred his country's highest honour, "The Commander of the Order of Mono," on two Ghanaian officials for their commitment to the deepening of bilateral relations.
The Togolese President personally decorated Mr Albert Kan-Dapaah, Minister of Defence and Mr D.K. Osei, Secretary to President John Agyekum Kufuor, at a State Banquet as part of activities marking Togo's 48th independence anniversary.

Five Togolese and a Burkinabe were also honoured at the function that climaxed the celebrations that included an anniversary parade.

Togolese officials expressed appreciation for the manner the two officials carried out their official duties in line with Ghana/Togo relations which had led to the creation of an enabling environment for peace, stability and development in Togo.

The Ghana Armed Forces Central Band, which was part of the Ghanaian contingent to celebrate the day, thrilled the audience to local songs that drew protracted cheers.

Mr Kan-Dapaah told the GNA that relations between Ghana and Togo outlived the advent of colonialism and it was therefore not surprising that President Kufuor has strong ties with his Togolese counterpart.

 He expressed the hope that the lifting of sanctions imposed on Togo by the international community would accelerate socio-economic development.

"Ghana would do everything possible to ensure that Togo goes through smooth transition," Mr Kan-Dapaah said.

The National Day celebration is the brain child of President Gnassingbe who is building bridges to unite a country that nearly sank into civil strife after the death of his father, President Gnassingbe Eyadema in 2006, following a disputed general election.