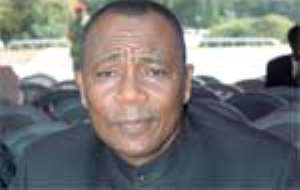 President John Agyekum Kufuor is expected to launch the first phase of his government's flagship Affordable Housing Project before the end of the year, Alhaji Boniface Abubakar Saddique has said.
Speaking on CITI FM's Breakfast Show, the Minister of Water Resources, Works and Housing stated that the President of the Republic of Ghana will inaugurate the Borteman Housing Project, near Nungua in the Greater Accra region and Asokore Mampong Housing Project in the Ashanti region before he leaves office.
Initially, President Kufuor was expected to commission the first phase of the project during the first quarter of this year but because of the disappearance of some contractors sometime late last year, the project had to be halted.
However, the contractors returned to post immediately when government mounted a search for them.
Due to the very high housing deficit that the country faces, which was estimated to be between 500,000-700,000 according to 2004 figures, the government in 2006 instituted the affordable housing project which saw the construction of affordable housing units at Kpone and Borteman in the Greater Accra region, and Asokore Mampong and Koforidua in the Eastern region.
The scheme was expected to be replicated in the other regions until 16 of the 79 contractors working on the Kpone Site near Tema in the Greater Accra region absconded, delaying the project.
However, the Sector Minister said despite the setback he was optimistic some of the projects would be completed before the end of the year.
This would pave way for President Agyekum Kufuor to inaugurate the programme he cherished most, Alhaji Abubakar Saddique explained.
As at September last year, the Borteman housing project was on course as some of the houses were being roofed while others had their electrical cables installed.
The Kpone project together with those in Kumasi and Borteman is being funded at a total cost of over $300 million.
When completed, the flats which come in various types with some having one bed-room and others two bed-rooms will be sold to civil servants, teachers and nurses on mortgage basis.
Data on housing in the country disclose a backlog of about 600,000 housing units, while supply figures are between 25,000 and 40,000 units per annum, as against an annual requirement of 100,000 units.
By Charles Nixon Yeboah