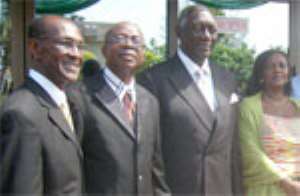 President John Agyekum Kufuor has challenged the country's private universities to take bold steps and include more Science and Technology and ICT programmes in their curricula.
He said Science and Technology education is not only capital intensive but also provides tools for success in the global market.
The President threw the challenge at the maiden graduation ceremony of the Regent University College of Science and Technology in Accra at the weekend.
Started with about 30 students three years ago, Regent University now has over 400 students.
Recalling last year when the government launched the New Educational Reform with Science and Technology and ICT as its focus, President Kufuor said all the country's teacher training colleges had been refurbished for this new orientation with 15 of them specially equipped to turn out specialists in Mathematics, Science and Technology education.
He however regretted that there were not enough adequately prepared personnel to teach Science and Technology.
"But in terms of what to teach, how it would be taught or applied, our primary and secondary schools require assistance from institutions at the tertiary level for the needed teachers.
Again, there are never enough of adequately prepared personnel to teach Science and Technology."
According to President Kufuor, Science education comes at a high cost, adding that students who pay to acquire such education are looking for adequate returns, and therefore lauded Regent University for the bold initiative.
He was however quick to charge the university to ensure that all the best practices come to play in the delivery of the various programmes, particularly "there must be compliance with the norms of class-size and teacher-student ratios".
The President noted that globalization had introduced us to cultures and practices that are often at variance with our own indigenous values, adding that "it takes knowledge, discipline, broad-mindedness, tolerance and understanding to be able to adapt to these new cultures.
"Therefore, beyond the immediate goals of acquiring a good certificate which leads to good employment, we need the type of education which enables us to appreciate the world such as it has become."
He discarded the impression that civic education was the exclusive responsibility of bodies such as the National Commission for Civic Education or the Commission for Human Rights and Administrative Justice, noting that it was everybody's responsibility to live in harmony and respect one another.
Commending the graduands, President Kufuor told them: "You are receiving your degrees today after a long period of study.
Whatever your aspirations, I trust and hope that you will enjoy a very productive and fulfilled life".
The President and CEO of Regent –Ghana, Prof Kingsley Larbi acknowledged the role of the private university in national development, and advocated the amendment of the GETFund law to enable private universities to have access to the fund.
He recalled 10 years ago when people argued that religious bodies and the private sector should not be given the mandate to establish universities to the extent that some were of the opinion that the public universities should be expanded to absorb more students.
Today, he said, the private sector had become more dynamic and contributed in diverse ways to revamp the economy.
"If we are given the needed push, we can contribute to the national agenda."
Prof Larbi also urged the graduands not rest on their oars but keep on upgrading themselves "and one day we will have the benefit of eating with the kings and presidents".
In all, 50 students were conferred with degrees in Accounting and Information Systems and Management.
The overall best student award went to Marigold Afua Asntewaa Ampadu who received a scholarship to do the Regent–Maastricht AMBA Accredited MBA programme, fully-loaded laptop and books worth GH¢100, Readwide's award of books worth GH¢100 and a cash of GH¢300.
Others were Jessie Dailey Pappies and Hanford Kwesi Annor who were also awarded as highly determined student and the best student in Accounting and Information Systems respectively.
Dr Ashitey Trebi-Ollennu was honoured for his distinguished contribution to the spacecraft rover engineering team and other outstanding scientific exploits while Prof M. Kumardoss, Head of Engineering Dept, was honoured as the most enterprising, dedicated and industrious academic staff.
By Sheilla Sackey