Pupil prevented from writing exam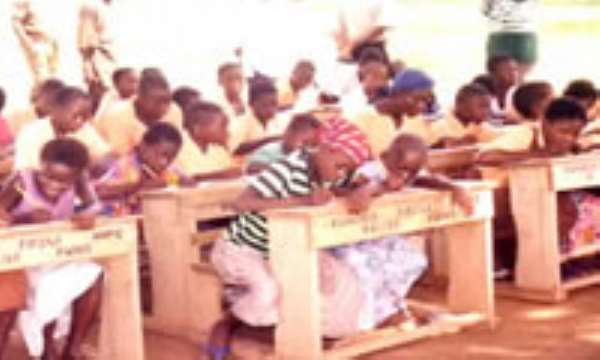 A final year junior high school (JHS) student taking the Basic Education Certificate Examination (BECE) at the Circuit 20 cluster of schools at Kotobabi a suburb of Accra, was prevented from writing the first part of the Pre-Technical Skills subject because she was thirty minutes late due to a downpour on the day of the examination.
The girl, Abigail Adusei, was however, allowed to write the second paper. She told newsmen, who were there to cover a tour of examination centres by the Greater Accra Regional Minister, that she lives in Kasoa with her parents and has to travel to Kotobabi for the examinations. She appealed to the authorities for compassion so she can take the paper.
The Regional Minister, Sheik I.C. Quaye, was accompanied on the three hour tour by Nii Okaija Dinsey, Metro Director of the Ghana Education Service, Ernestina Afosah-Annim, Regional Director of Education, Adelaide Amoh, Coordinator of second cycle schools and Cynthia Mettle Nunoo, administrative officer of the Regional Coordinating Council (RCC). They visited four schools - Osu-Salem JHS, ANT Experimental School, Accra Newtown, Circuit 20 at Kotobabi, and Kinbu all in Accra.
He urged JHS students to avoid acts of indiscipline which could affect their quest for higher education.
"The nation can't progress with indiscipline; you are in school to acquire knowledge to take positions of trust and to continue with the good works of the government. Moral decadence is a setback to achieving this goal," he said.
The five-day examination which ends at 5:00 pm today began on Monday April 20 with a total of 337,110 candidates sitting the exams in various subjects in 9,212 JHS's countrywide. 61,313 candidates are in the Greater Accra Region.