Construction of Kpone thermal power plant to take off soon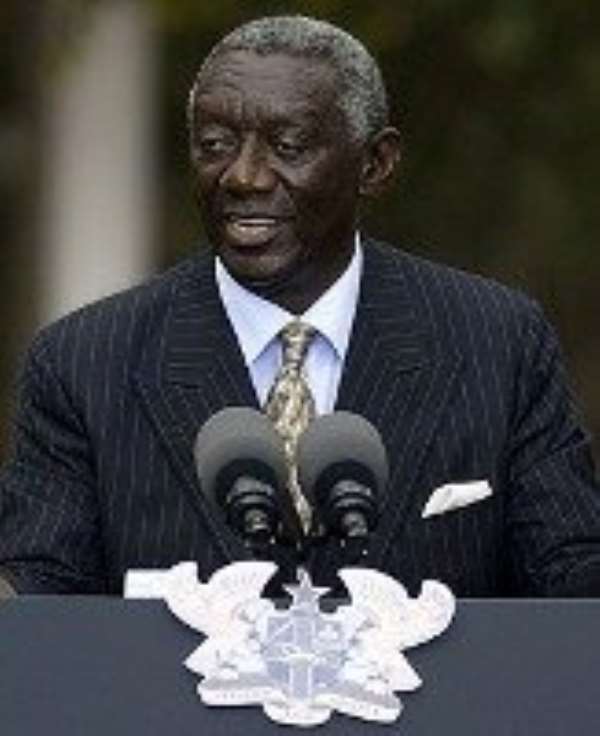 President John Agyekum Kufuor on Wednesday granted audience to a delegation of Shenzhen Energy Group Limited from China, which is in the country to build a thermal power plant at Kpone, near Tema, and noted with satisfaction the growing economic partnership between Ghana and the Asian country.He said his government is fully behind the company in its contribution to the national effort to achieve energy security.The project, initiated by Togbe Afede XIV, Agbogbomefia of Ho Asogli, would add 560 megawatts of electricity to the nation's generation mix.
Chinese companies are undertaking a number of projects in the country, including the construction of a 600 million-dollar hydro-electric dam at Bui, as well as roads. The Board Chairman and leader of the delegation, Gao Zi Min, said they are determined to share their experience and help Ghana to meet its energy needs to speed up the pace of industrialization. He pledged quality job and quick completion of the project.
Phase One, which is programmed to be completed by the end of 2008, would generate 200 megawatts of electricity.
President Kufuor later met with former Tanzanian President Benjamin Mkapa at the Castle, Osu. He is in Ghana to attend the 12th United Nations Conference on Trade and Development due to open April 20 in Accra.
President Kufuor thanked Mr Mkapa for accepting to serve on the three-member panel he set up earlier this year to help restore peace and security to Kenya, following a post-election violence in that country.

President Kufuor said the good job done by the Panel, chaired by former UN Chief Kofi Annan, with Gracia Machel, wife of former South African President Nelson Mandela, as the other member, has paid off with Kenya now back to normalcy.
Mr Mkapa paid glowing tribute to the extraordinary patience of Mr Annan, saying that made the difference.