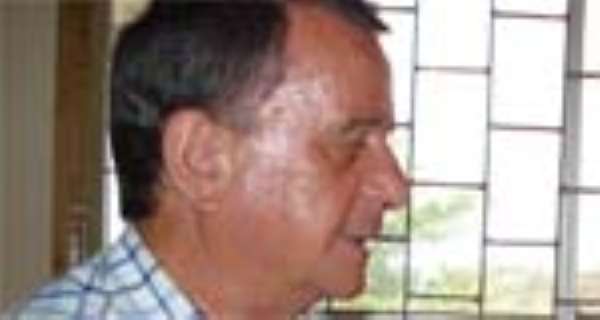 FORMER LIGHTWEIGHT Champion, Jean-Pierre Mahe, now a boxing coach and manager in Burkina Faso, was early this week welcomed to Ghana by the boxing professor, Azumah Nelson.
Mr. Mahe, a French national based in Burkina Faso for the past 18 years, chose Azumah's gym to train four Burkinabe African Champions namely Kabore Alexis (Bantamweight), Sou-Tohe Patrice (Welterweight), Kabore Boniface (Super middleweight) and Kabore Irissa, a Super welterweight who will fight a Ukrainian for the International Boxing Federation (IBF) title, while all the other boxers named above will be gunning for world titles later this month.
Mr. Mahe disclosed that as a manager, this was his third visit to Ghana where he would be preparing his boxers at the Azumah Nelson Gym. He said he was in the country so his boxers would tap the experience of the boxing professor.
In an interview, Mr. Mahe, who said he liked reading DAILY GUIDE SPORTS whenever he visits Ghana noted, "I have also managed many Ghanaian boxers, the likes of Raga Murphy who won the West African title in 1977. He fought in France and in Italy with European Champions and Jo Kalala."
Mr. Mahe, on whom President Blaise Compraore of Burkina Faso had conferred the Order of Merit for his contribution to the country's sports, led Salam Oudraego in 1975 to secure a win over the late Eddie Blay in their African Welterweight Championship at Treichville, Abidjan, before meeting Oblitey Commey in an exhibition bout in Accra the same year.
The French-born Burkinabe, who described Azumah as a legend, was full of praise for the boxing professor for allowing him and his four boxers to train at his gym free of charge.
He said Azumah who was a World Champion for 10 years, was still a great personality out of the ring.
"In Ouagadougou, my boxers lacked sparring partners due to their status as professional boxers. Therefore, we find it convenient to travel to Ghana as one of the boxing nations on the continent for training. Out of over 300 boxers in Burkina, only four are professionals," he added.
The boxing manager however revealed that talks were underway between the Burkina Faso Boxing Federation and Azumah Nelson through the Ghana Embassy in Ouagadougou, to maintain a lasting relationship with the boxing professor, to facilitate the training, sparring and preparation of boxers from Burkina Faso whenever they were getting ready for a world title bout.
Azumah was expected to embark on an official visit to Burkina in due course, he concluded.
By Pierre Toto