Schools and Communities in UER Assisted to Prepare Against Disaster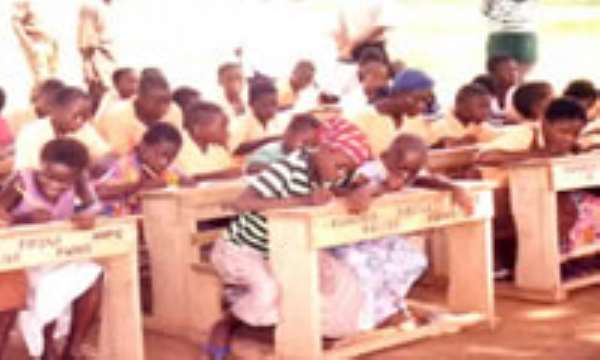 The Disaster Risk Reduction (DRR) through schools project last year helped five schools in the Bawku West District to plant 700 trees in their compounds to serve as wind break for the protection of the buildings.
It provided the schools with the tree seedlings, watering cans, shovels and other garden tools to help the pupils transplant and water the trees regularly.
The DRR which is under the Centre for Community Development Initiatives (CODI) also roofed two schools in the District that had their roofs ripped off in a storm.
Speaking at a review and planning meeting of the DRR project in Bolgatanga, Mr. Samuel Abasiba, programme co-ordinator, said the measures were aimed at preparing the schools against disaster usually caused by rain storm.
The pupils, teachers, parents and communities were also sensitized on disaster reduction and climate change and its effects on their daily lives and the necessary measures they needed to take in order to prepare themselves against disaster, he said.
The programme, he said covered five communities in Bawku West, Apodabogo, Yikurugu, Gozesi, Agatusi, and Widnaba, but would be extended to reach Garu-Tempane and Builsa Districts this year.
Mr. Abasiba said the programme for this year was aimed at making schools safer and that schools would be encouraged to integrate in their curriculum, disaster risk reduction programmes.
He said 20 schools had been selected for the programme and the teachers would be trained to prepare them adequately to teach the pupils.
Mr. Sulley Alhassan, Action Aid International Ghana (AAIG) called for a change in some cultural practices like bush burning, farm fires and tree felling that compound the problem of storms and floods.
He noted that it was necessary for every individual and the nation to prepare for post disaster so that when the inevitable happened, the government would be prepared and the people would not suffer much.