Programmes to mentor varsity students initiated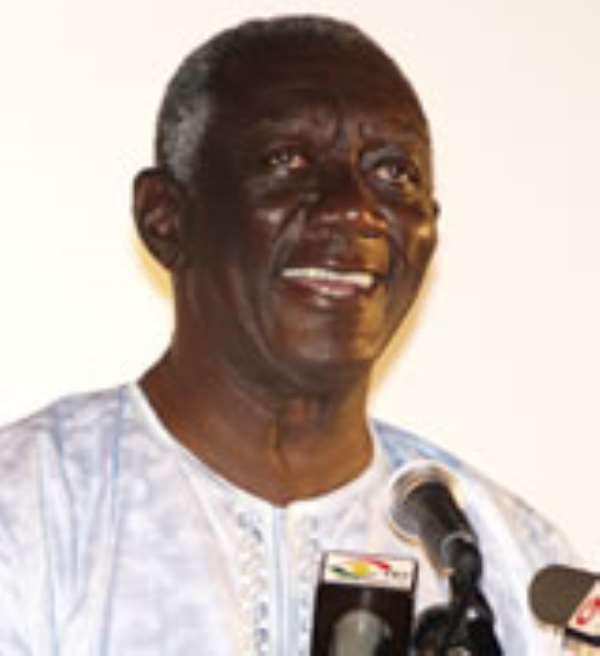 The President, John Agekum Kufour has said the government will continue to support programmes aimed at developing the innovation and entrepreneurial skills of the youth.

He said the government had therefore initiated a programme, known as the "Captains of Industry" to mentor the youth in tertiary institutions.
It seeks to reduce the level of unemployment in the country and to get successful self-employed men and women to tell their stories so as to mentor the youth to dare to establish their own businesses after graduation.
The President said this in an address read on his behalf at the seventh congregation of the Takoradi Polytechnic in Takoradi.
One Thousand and fifty-one graduands who completed their studies in 2006 were awarded with Higher National Diploma.
Sixteen of them obtained first class, 584 had second class upper division, and 440 second class lower division while 11 had passes.
He said polytechnics had a unique role to play in the development of skilled manpower for the nation; since they represented people who possessed the appropriate knowledge, skills and attitudes to function in specific professional settings.
The President said Ghana needed such skilled manpower to speed up its socio-economic process.
He pointed out that society expected beneficiaries of tertiary education to be disciplined and discerning, capable of giving objective, rather than emotional analysis of issues.
He urged students to respect and promote the norms of society, adding that even when they disagreed with such norms, they should seek change by legitimate means, other wise they put themselves in danger of becoming anti-social.
The Chairman of the Polytechnic Council, Professor Daniel Mireku-Gyimah stated that in the last five years, the government had continued to provide funds, through the Ghana Education Trust Fund (GETFund) for the construction of buildings and the provision of learning facilities in the polytechnic.
He gave the assurance that the Polytechnic Council was committed to ensuring that all projects in the school were executed and properly approved.
The Rector of the Takoradi Polytechnic, Dr Samuel Obeng Apori, recounted the disturbances that occurred at the school last year and said the council had been able to resolve these issues as well as put in place measures aimed at forestalling similar occurrences in future.
Consequently, he said it was expected that differences which might arise between management, staff and students should be resolved through laid down procedures and due process.