Liberian Refugees Threatening the Security Of The Country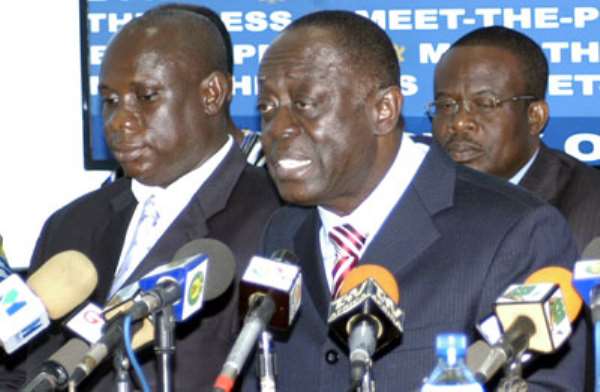 Hon Kwamena Bartels, Minister for Interior stressing a point
The Minister for the Interior, Hon Bartels has stressed that Ghana will continue to build on the good relations that she has with Liberia whilst ensuring that it's security is not threatened.
Briefing the press yesterday on the recent events by a group of Liberian refugees and unregistered Liberian nationals at the Buduburam refugee settlement since 19th of February 2008. The Minister disclosed that the refugees had within a four-week period succeeded in creating an anarchic state at the Buduburam settlement and Government in the interest of protecting Law abiding refugees had to take decisive action to prevent the total breakdown of Law and Order.
The Minister added, that these Refugees had in the last month succeeded in physically preventing children from going to school at the settlement and therefore forcing the closure of all the schools in the camp, preventing the National Catholic Secretariat and other NGOs from distributing food to the vulnerable which include the elderly, sick and children most of whom rely heavily on the food distribution.
He said, the innocent demonstration by women and children was part of a wider plot by a number of persons to cause confusion and fear on the settlement as well as threaten the security of the country.
'Government is aware of the presence of a number of Ex-combatants at the settlement and will not sit down unconcerned for our national security to be jeopardised,' he stated.
Hon Bartels announced that a tripartite Committee made up of Ghana, Liberia and UNHCR has been established to work out the practical modalities for repatriation of the Liberian Refugees in Ghana. This was agreed in a meeting with a high powered delegation of the Liberian Government last week. The refugees who were relocated to Kordiabe returned to the Buduburam settlement as a result of this meeting.
The Interior Minister stressed that Liberian refugees are entitled to apply to be citizens of this country by virtue of marriage. He added, that Ghana will continue to champion the cause of Africa to ensure that peace and security prevail over the entire continent.
The Information and National Orientation Minister, Hon Oboshie Sai Cofie, encouraged the journalists to give comprehensive stories as possible.