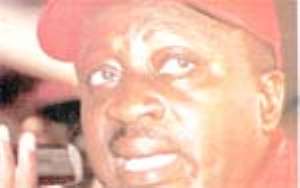 LEAGUE LEADERS Kumasi Asante Kotoko and Berekum Arsenals may be heading to the law courts soon over a bribery scandal. 
Alhaji Yakubu Imoro, Chief Executive Officer (CEO) of Arsenals insists that Kotoko's management led by its CEO, Sylvester Asare Owusu, had tried to bribe his team to play a match of convenience in the 2006/07 league season.
According to him, though he collected monies and some balls to that effect, he psyched up his players well to give Kotoko a sound beating (2-0), and returned Kotoko's items to them immediately after the game.
Alhaji Imoro threw the bombshell on a Kumasi-based radio station immediately Kotoko played a barren game in the 14th-week encounter of the on-going premiership with his team at Berekum last Wednesday.
Kotoko Boss, Sylvester Asare Owusu had earlier made known his intention to call on the Disciplinary Committee of the Ghana Football Association (GFA) to ban the Golden City Park, home grounds of Arsenals on grounds of maltreatment to visiting teams.
Speaking in an interview with Sometimer Otuo Acheampong of Kessben FM, Alhaji Imoro who sounded exasperated, alleged, "Mr. Asare Owusu, Jerry Asare and Ackah Anthony tried to bribe me with GH¢6,000 and 10 footballs to offer them a win on silver platter last season.
"These three men representing Kotoko approached me with the mouth-watering package to play a match of convenience. Takyi Arhin accompanied me to that meeting and he is ready to testify.
"We first deliberated on the issue at Eusberg Hotel at Sunyani and settled on an amount of GH¢6,000 and 10 footballs if we allowed ourselves to be beaten by Kotoko in the said match.
"From the Sunyani meeting I proceeded to Kumasi and collected the money and the footballs from Mr. Asare Owusu at his residence.
"But after the humiliating defeat, Mr. Asare Owusu approached me for the money and the footballs right after the match at the stadium and I obliged and gave it to him."
Asked why he collected the money and the footballs in the first place knowing too well that it was against the rules of association football, Alhaji Imoro said, "I collected the package to prevent Kotoko from bribing my players.
"Since the package was with me they were rest assured that victory was theirs, so they did not attempt to deal directly with the players and it went a long way in helping us secure the win."
Alhaji Imoro, recounting what has happened in the past concerning bribe issues with Kotoko and his team, alleged, "In 2003 they came to me with the same package to play a match of convenience which I flatly refused, but the performance of my boys in the match suggested to me that Kotoko might have channeled the bribe to the players.
"With this in mind, I collected this bribe as a ploy to prevent Kotoko from going to bribe some of my boys to play it soft against them this time too, and luckily the strategy worked well for me".
Meanwhile, Ackah Anthony whose name was mentioned in the alleged bribery case has vehemently refuted Alhaji Imoro's allegations, threatening to take him to court to clear his name.

Speaking on radio in Kumasi, Mr. Anthony vowed to take legal action against Alhaji Imoro, contending, "I will take this action to stop people from always leveling bribery allegations against Kotoko."
He stressed that even if the management of Kotoko deal leniently with the issue he would take the matter to court to clear his good name, which "Alhaji Imoro wants to taint with unfounded allegations.
"I am highly surprised by the utterances of Alhaji Imoro. His allegations are neither here nor there, and I will make sure that he pays dearly in the law courts, for the lies that he is peddling around."
But Alhaji Imoro contends that he has the needed evidence to prove the authenticity of his claim. "I have my evidence there intact. Also, all my witnesses numbering about 10 are ready to testify so they can go ahead and take me to court".
From Fred J.A. Ibrahim Jnr., Kumasi