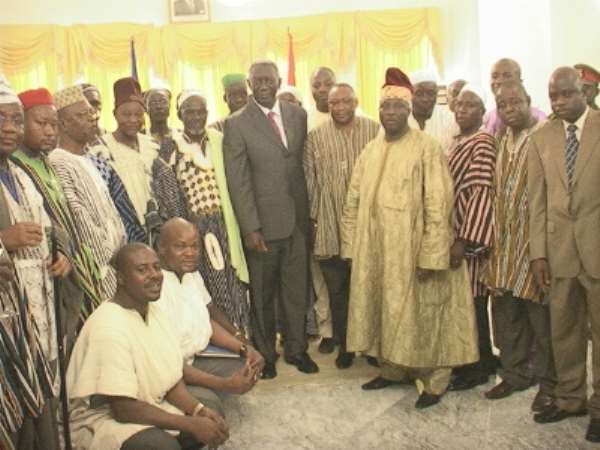 President Kufuor poses with chiefs and elders of Bawku
President John Agyekum Kufuor has called on the chiefs and people in Bawku to consign their traditional differences to history to help bring calm and restore peace to the area. He said they should do everything to ensure peace to enable the youth to engage themselves in profitable ventures.
'You should be able to live peacefully as Ghanaians,' he said in remarks before going into closed door meeting with the Bawku Na-ba, Na Asigri Abugrago Azoka, his sub-chiefs, Members of Parliament (MPs), opinion and some youth leaders at the Credentials Hall of the Osu, Castle.
The meeting, which was at the instance of President Kufuor was meant to explore ways to end the violence in that part of the country and allow all to go about their lawful activities without hindrance.
Violent clashes raging between the Kusasis, the majority ethnic group, and the Mamprusis had claimed a number of lives and left many others injured, a situation that had forced the Government to impose a curfew in the area. Security personnel sent to keep the peace are reported to have come under fire, giving a disturbing twist to the situation.
President Kufuor said, 'I have not been unconcerned. I have been in constant touch with the Bawku Na-ba. Unfortunately trouble keeps raging in this corner of the country.' He said he appreciated the concern for peace by Na Azoka and encouraged him to serve as 'father to every body in his traditional area.'
To the MPs, President Kufuor said, he was counting on them to rise beyond political party divide to help achieve lasting peace for the people. This entailed providing responsible leadership by accepting to play by the ground rules of politics.
President Kufuor expressed dissatisfaction with the situation where resources that could have gone into the development of Bawku were being spent to keep peace. He noted that Bawku had bright prospects of becoming one of the richest part of the nation, given the absence of bloody ethnic conflicts.
The Government wanted to see the area become a vibrant and prosperous place. Na-ba Azoka said he was grateful to President Kufuor for the opportunity to brainstorm on how to bring lasting peace and security to his traditional area.