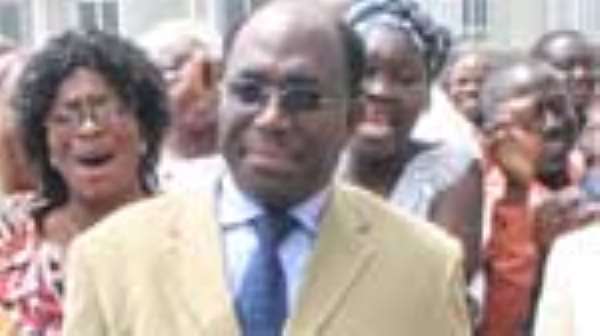 A former Deputy Minister of Information in the National Democratic Congress (NDC) administration, Sam Pee Yalley has stated his support for the re-nomination of Dr. Richard Anane as Minister of Transportation.
In a telephone interview with DAILY GUIDE, Mr. Yalley, a barrister-at-law and former General Secretary of EGLE Party said the President was perfectly right in re-instating his former Minister of Transportation especially when there were no adverse findings against the nominee.
According to him, Dr. Anane has not committed any offence to warrant rejection from Parliament, and criticized the NDC's position that the nominee ought to have been disqualified by the Appointments Committee of Parliament.
"If they say the man is hardworking, what stops him from going back to his position?" he asked.
Mr. Yalley, who was a member of the NDC-led Progressive Alliance Government and served variously as Cape Coast Municipal Chief Executive and Deputy Minister of Environment, Science and Technology (his last high profile position), noted that Dr. Anane could not be crucified on the grounds of morality.
He wondered how many people would escape moral questions if posed at them, especially in the African context.
He therefore called on Parliament to endorse the nominee when the Appointments Committee's report is put before it.
Mr. Yalley reiterated that the President was damn right in re-appointing the former Minister who resigned in October 2006 to challenge adverse findings by the Commission on Human Rights and Administrative Justice (CHRAJ) on issues of conflict of interest and abuse of office.
The findings had been struck out by an Accra High Court, saying that CHRAJ went beyond its mandate.
The Commission also lost in its quest to set aside the High Court ruling at the Supreme Court, with a 4-1 ruling that CHRAJ needed a complainant before it could embark on investigations of corruption, abuse of office and conflict of interest.
Subsequently, President Kufuor re-nominated Dr. Anane for the same position, with the Appointments Committee giving the nominee a clean bill of health after almost one hour thirty minutes of vetting.
However, the NDC, whose members were part of the Committee that vetted the nominee, cried foul, saying the President erred in re-nominating Dr. Anane.
The party therefore called on Parliament to reject the Appointments Committee's report on the nominee.
"The NDC believes that if Parliament goes ahead to endorse the recommendations of the Appointments Committee, it would have failed gravely in its duty of upholding the dignity of good governance," it said in a statement signed by Johnson Asiedu-Nketia, General Secretary.
It described the re-nomination of Dr. Anane by the President as a "stab in the back of the quest for good governance, morality and dignity in public life".
However, Sam Pee Yalley disagreed with his NDC colleagues, noting that President Kufuor had the penchant of taking good decisions.
Parliament is expected to approve the nomination of Dr. Anane tomorrow.
By Fortune Alimi