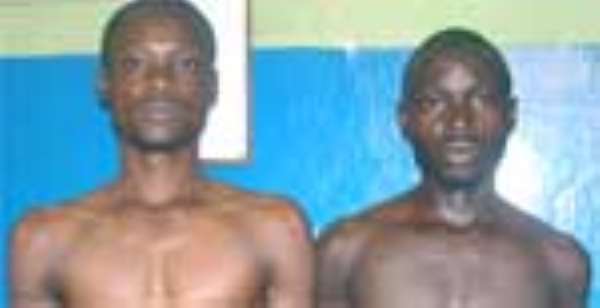 TWO TEENAGERS who stole an unregistered Yamaha motorbike at Asamankese were sentenced to 10 years' imprisonment each by the Asamankese Circuit on Tuesday.
The two, Kwadwo Baffour, 20, and Kwesi Attah, a trader and an auto mechanic respectively, were intercepted by a Police patrol team at Suhum in the Eastern Region at 3.45 am with fake registration numbers and were arrested and sent to the police station.
The facts as presented by the prosecutor, Chief Inspector Benjamin Brew were that on Sunday February 17 at 3.45 am, the Police patrol team at Suhum intercepted the unregistered motorbike being ridden by Kwasi Atta and his friend.
When the police asked where they were going with the unregistered motorbike, they said it was given to them by a friend to be sent to Accra.
According to the prosecutor, the police were not convinced and subjected them to a further search and found two motorbike registration numbers, GE 793 V and ER 144 X in a bag strapped to the back of Baffour.
After the discovery of the fake registration numbers, the two admitted to stealing the bike at Asamankese and that they were sending it to Accra where they resided.
According to the prosecutor, the accused said they came to collect some money from a friend at Asamankese but did not see the friend.
They said while in town, they saw the motorbike parked in front of a house and decided to ride it to Accra because they did not have money to pay for their trip back to Accra.
The police arrested them for riding an unregistered motorbike and also confessing to stealing the motorbike.
They were charged with being in possession of a stolen motorbike and processed for court.
The court sentenced them on their own plea to 10 years imprisonment each.
From Thomas Fosu Jnr, Asamankese