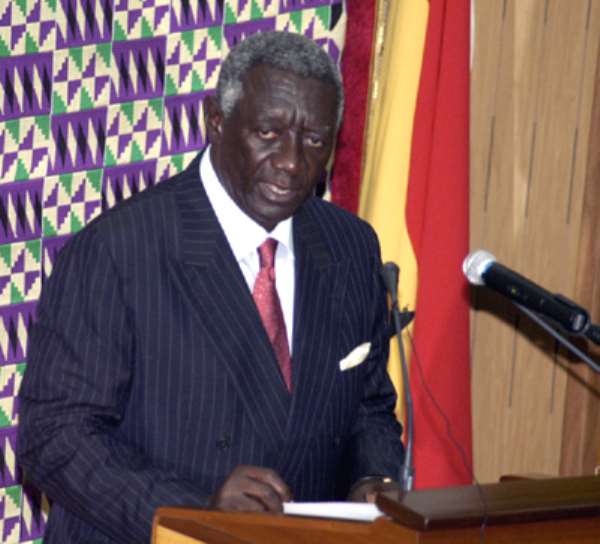 President Kufuor delivering the State of the Nation Address   The President of the Republic of Ghana, H. E. John Agyekum Kufuor today delivered his 8th and final State of the Nation Address to Parliament in accordance with the Constitution of the 4th Republic.
President Kufuor's address covered a broad overview of his administration since 2001, highlighting major achievements of various sectors of the economy. These include; the Oil Discovery in Ghana, the State of Human Resource Development, Health, Water, the National Health Insurance Scheme, HIV/AIDS, Infrastructure, Roads, Railways, Ports, Aviation and Telecommunications.
Others were Energy, the West Africa Gas Pipeline, the Private Sector, Agriculture, Commercial Farmers, Cocoa, Millennium Challenge Account, National Youth Employment Programme, the Public Sector, Public Sector Pay Reform, Fair Wage and Salaries Commission, and the National Labour Commission.
The rest were Good Governance, African Peer Review Mechanism (APRM), Law and Order, Law Enforcement, Gender, Foreign Relations, Legislature, National Heritage and Elections.
He observed that 'the progress recorded in the past seven years has proved beyond doubt that the decision 'to go HIPC' was a master stroke. Ghana is now solvent and the economy is strong and resilient,' he concluded.
Read the full text of the presentation.