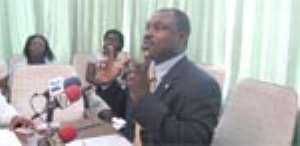 Thirty-four staffers of Ghana Investment Promotion Centre (GIPC) were dismissed in October last year due to a restructuring exercise being embarked upon by the Chief Executive Officer (CEO) of the Centre, Robert Ahomka-Lindsay.
Mr Ahomka-Lindsay who disclosed this when answering questions at a press conference in Accra said the decision to relieve the staff of their posts was part of the current management's vision of developing the Centre into a first class agency.
Touching on some of the job requirements of GIPC, Mr Ahomka-Lindsay said his outfit is seeking business-minded, strong, cross-functional professionals who can provide inspirational leadership, ongoing management oversight, substantive support and bring people together to move forward quickly in achieving the vision of the Centre.
"We are mandated by the government to deliver, and to do this, we need to have the right people. We would not compromise on our job requirements," he stressed.
"The restructuring exercise is a fundamental change and this would surely bring casualties. I am therefore prepared to resign if the restructuring exercise failed to work," the GIPC boss added.
The Centre, he noted, had recruited, re-trained and deployed 34 young graduates along its seven priority sectors, namely agriculture/agribusiness, infrastructure, industry, financial services, ICT, tourism and services to pace up investment promotion and facilitation.
He noted that the Centre would continue with its re-structuring to help transform Ghana into the preferred investment destination in Africa.
It would be recalled that a section of the GIPC staff last year demonstrated against the CEO, saying they could no longer work with him.
The workers, clad in red bands, wielded placards, some of which read: 'Mr. President, we don't want to work with the new Chief Executive any more because of his cruelty towards staff', 'Pay us utility bills immediately and restore our accommodation', and 'We don't want Ahomka'.
But the eight-member board of the Centre said it was absolutely confident of the administrative style of Ahomka-Lindsay, saying he had a vision of developing the Centre into a first class agency.
Meanwhile, the Centre was able to double the country's new investments in 2007 to $5.27 billion.
The Centre registered 305 new projects in 2007 and an estimated 25,367 new jobs were created out of the new projects registered, relative to 12,044 jobs in 2006.
By Felix Dela Klutse