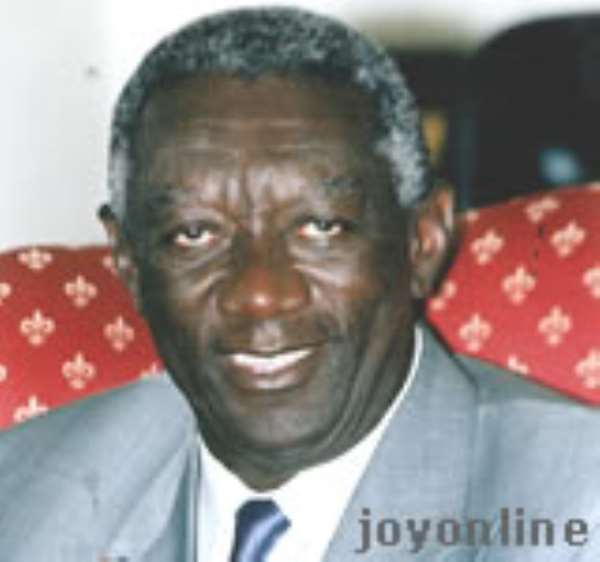 President John Agyekum Kufuor, Chairman of the African Union (AU), on Wednesday held the first rounds of talks with the main political actors in the disputed Kenyan presidential election as part of a diplomatic push to assist them to find common grounds and ease the stalemate.

He met one-on-one with both President Mwai Kibaki, whose re-election had thrown the East African country into turmoil and the main Opposition Orange Democratic Movement (ODM) Leader, Mr Raila Odinga and later with a 12-member team from a coalition of Kenyan opposition political parties known as "Pentagon".

The meeting with the Kenyan Leader at the State House lasted for over one hour while that with Mr Odinga at the Inter Continental Hotel travelled beyond two-and-a-half hours.

President Kufuor was billed to go into another round of talks with Mr Kibaki later in the afternoon.

All parties to the negotiations were tight-lipped and would not let out any details about the main issues on the table.

Mr Odinga's ODM told the horde of journalists, who had laid siege at the Inter Continental Hotel prying for news about the progress or otherwise of the talks, that matters regarding diplomacy could not be discussed in the media.

The Press Secretary to President Kufuor, Mr Andrew Awuni said the meetings centred on the need for all parties to stand down from their entrenched positions and agree to meet together for talks without any precondition.

The Leaders were also asked to impress upon their supporters to cease from all acts of violence and to allow the rule of law to prevail.

Kenya, once hailed as a model of stability, was plunged into chaos as protests over the disputed December 27 elections snowballed into violent ethnic clashes that have killed more than 300 and displaced tens of thousands of people.

Mr Odinga and his ODM have refused to recognise the legitimacy of President Kibaki, claiming he was wrongly credited with victory.

They have, therefore, been demanding the formation of a Transitional Government, which they said President Kibaki should not be part of, to oversee a re-run of the poll.

The 76-year-old President Kibaki in a move to tighten his hold on power and what his supporters said was to prevent a political vacuum, on Tuesday announced the first batch of his new Cabinet, drawing flak from the ODM which parried it as a "sideshow" and political provocation.

The Kenyan Leader says the 17 people he named to his Cabinet, constituted only a half of the number, leaving room to manoeuvre in the course of the political negotiations.