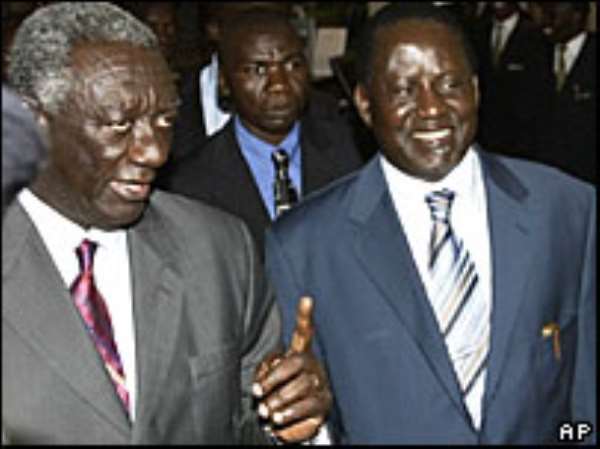 President John Kufuor, the head of the African Union, has extended his mediation mission in the country by a day, Kenya's foreign ministry says.
On Wednesday, Mr Kufuor held separate talks with President Mwai Kibaki and opposition leader Raila Odinga.
Afterwards, Mr Kibaki's spokesman said he wanted to reach out to his opponents now the violence had subsided, while Mr Odinga called the talks "fruitful".
About 600 people have died in unrest which followed the disputed poll.
In addition to those killed, some 250,000 are feared displaced by the violence following the 27 December election in Kenya - previously seen as a beacon of stability in east Africa.
Mr Kufuor arrived in Kenya on Tuesday, but despite meeting the leaders of both sides has so far not managed to get them to agree to direct talks.
On Wednesday Mr Odinga refused talks proposed by Mr Kibaki, calling the offer "public relations gimmickry" that sought to divert attention from international efforts to broker a solution.
Mr Odinga has also repeatedly said he will not join a government of national unity.
Home-grown solution
After meeting Mr Kufuor, Mr Kibaki's office issued a statement, saying he had assured Mr Kufuor he was initiating dialogue.
"Now that peace was returning to these parts, his partially formed government would continue to reach out to Kenyan leaders who would also be encouraged to play their role in preaching peace among their followers," the statement said.
The BBC's Josphat Makori in Nairobi reports that the mediation efforts have been generally welcomed by the public - who feel Mr Kufuor's visit will bring the calm needed for talks - but that there is widespread conviction that a home-grown solution is needed.
Mr Odinga's Orange Democratic Movement (ODM) has said that it does not recognise the new cabinet announced on Tuesday by Mr Kibaki.
Earlier on Wednesday, Mr Kibaki insisted that there was room for members of the opposition in his new cabinet - currently dominated by members of his Party of National Unity (PNU), but until now only partially filled.
"When my government is fully constituted as a result of dialogue, it will be broad-based and represent the will of the people of Kenya," he said in a statement.
Source: BBC