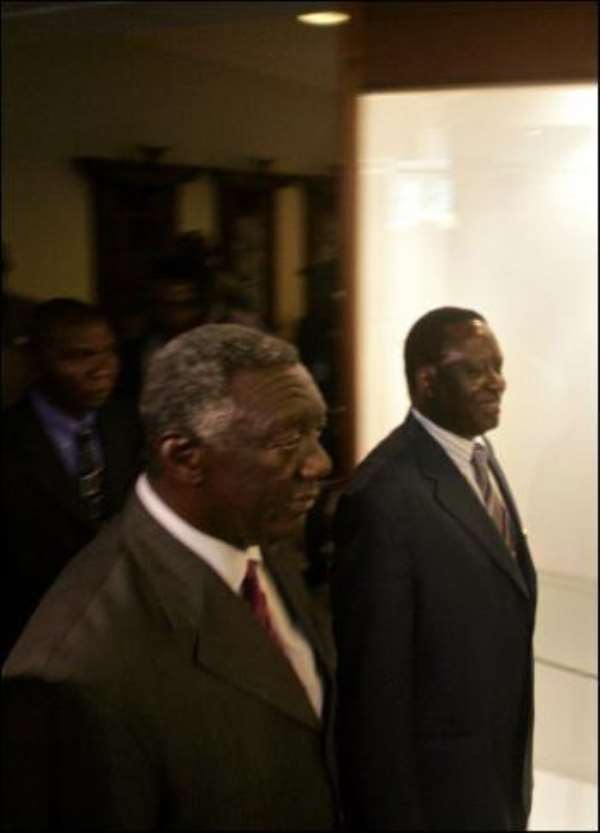 President John Agyekum Kufuor has met with Kenyan President Mwai Kibaki and is scheduled to meet later with opposition leader Raila Odinga, who still opposes Kibaki's re-election.
Mr. Odinga accused the incumbent of rigging the December election and refuses to accept kabuki's victory.
Post-election violence between supporters of both factions, divided along ethnic lines has led to as many as 600 deaths.
According to a statement from Mr. Kibaki's office, the Kenyan President told President Kufuor that his highest priority is to ensure a peaceful solution to the crisis.
It said in line with Mr. Kibaki's conviction, he invited Mr. Odinga and other opposition leaders to reconciliation last Friday.
However, Mr. Odinga insisted that he would only speak to Mr. Kibaki if President Kufuor is present as mediator.
President Kufuor has been involved in conflict resolution in Liberia and Cote d'Ivoire.
Meanwhile Mr. Kibaki has announced a new cabinet.
He said the News cabinet constitutes broad-based leadership from across the political spectrum.
Members of Odinga's Orange Democratic Movement party are though not included in the cabinet.
News of the cabinet led to protests and unrest in Nairobi's slums and in the western part of the country.