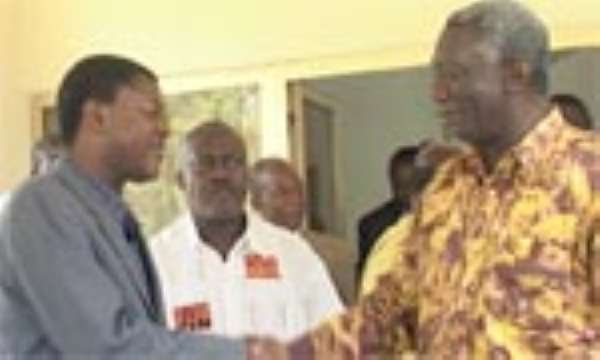 THE HEAD OF the African Union (AU) and President of Ghana, John Agyekum Kufuor has held separate talks with Kenyan political leaders in Nairobi, in an effort to end the post-election crisis while life returns to normalcy in Kenya.
President Kufuor first met in the morning with Mwai Kibaki over an hour behind closed doors at the State House and later held a four-hour discussion with Mr Odinga in his hotel.
The meetings are reported to have been focused on redefining better moments for Kenya in terms of the direction the country would go for peace to prevail.
Violence that broke out between supporters of the political leaders after Mr Kibaki was pronounced winner of the December 27 elections has now subsided but the two main opposing parties have not yet met for direct talks to resolve the crisis that claimed 600 lives and displaced 250,000 people.
Among the leaders President Kufuor met was a 12-member team from the coalition of Kenyan opposition political parties known as the Pentagon.
During the discussions with the feuding parties, President Kufuor emphasised the need for all parties to stand down from their entrenched positions and agree to meet together for talks without any pre-conditions.
The leaders were asked also to impress upon their supporters to desist from all acts of violence and allow the rule of law to prevail.
After meeting Mr Kufuor, Mr Kibaki's office issued a statement saying he had assured Mr Kufuor he was initiating a dialogue.
The Kenyan President, Mwai Kibaki has announced that he is ready to meet with Mr Odinga on Friday for negotiation talks.
Earlier, Mr Kibaki had proposed a unity government but his rival, the main opposition leader Raila Odinga had repeatedly said he would not join a government of national unity and has also refused joint talks, calling it 'public relations gimmickry'.
However, Mr Odinga has described the talks with President Kufuor as very 'fruitful'.
The mediation efforts have been generally welcomed by the public - who feel Mr Kufuor's visit would bring the calm needed for talks - but that there is widespread conviction that a home-grown solution is needed.
The arrival of the AU chairman is being cited as the arrival of the "saviour". One newspaper's headline was "The Saviour has come".
President Kufuor later went to see some of the riot-hit areas and was expected to hold more talks with the parties later in the day.
Mr Kibaki flew off to the western city of Eldoret, which had suffered some of the worst violence since the crisis began, after his meeting with the AU chairman, and later addressed three rallies, mainly attended by members of his Kikuyu tribe who were worst affected by violence in the area.
By Emelia Ennin