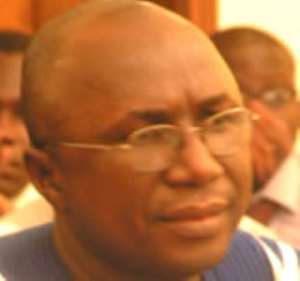 Mr Ambrose Dery, Minister of State at the Ministry of Justice on Monday urged politicians from the various political parties to use 2008 as a year of unity that would help propel the development agenda of the country.

"Ghana has over the years become an epitome of democracy and stability and this is an election year and all we need is to consolidate that exemplary status to encourage other countries that are struggling with political rudimentary problems".

Mr Dery said these when he hosted over 500 people at his residence at Kokoligu near Nandom in the Lawra District as part of his annual fraternal meetings with people from the Region.

"Before NPP, NDC, PNC and CPP were formed as political parties, we were already born as Ghanaians with a common destiny and why don't we continue that way when it comes to nation building for the betterment of our own motherland", he asked.

He said during this election year, politicians needed to guard themselves against character assassination and insults, which had remained the bane of African politics over the years and urged them to use civil language that would rather win the sympathy of the electorate and demonstrate their political maturity.

The Minister said the government had pursued policies such as the implementation of the capitation grant, school feeding programmes and the National Health Insurance Scheme and called on every citizen to support those programmes to accelerate the development needs of people.

"There is no way in which we can develop without pushing our children into school and it is in this vein that the NPP government is doing everything possible to bring education to the doorsteps of everyone in the country".

The patrons of the meeting were elders and politicians from all political parties in the Lawra, Jirapa/Lambussie Districts and the Wa Municipality.