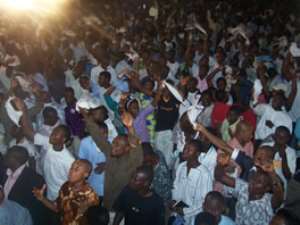 Dr. Mensa Otabil of the International Central Gospel Church, (ICGC), has declared 2008 Year of Discovery, where men will even dig and find water in the desert!
He made the prophetic declaration at the ICGC 2007 Crossover Watch Night Service at the Independence Square in Accra.
The service saw a mammoth congregation of grateful Christians gathered at the Square to thank God for his mercies and blessings through 2007 and also usher in Year 2008.
Several ministers of the word took turns to lead the congregation in worship, songs and prayers for the nation.
Mensa Otabil, General Overseer of the church who led the service, in his prophetic pronouncement of 2008 as a year of discovery also prayed for divine guidance upon the country and a renewal of the strength of the country's workforce.
He foretold of men overcoming the impossible, such as digging and finding water even in the desert.
He said the people will find the missing puzzles in their lives, and they will live to see the unfulfilled desires of the past.
Some participants who spoke to JOY FM indicated that although the past year came with some setbacks, they were poised for new discoveries in the months ahead as they continually seek the face and goodness of the Creator.