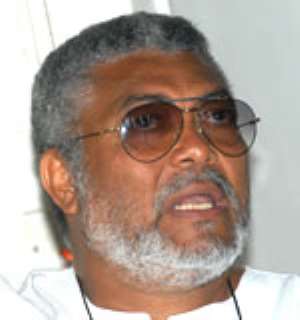 Former President Jerry John Rawlings has, in a message, extended to all Ghanaians the best wishes of the season.
The former President expressed the hope that in spite of the harsh economic conditions that have made it impossible for Ghanaians to have a meaningful celebration, at least the people have not lost the spiritual import of the season.

Former President Rawlings, in the message released on Monday, December 31 2007, used the memorable occasion to urged all Ghanaians to remain steadfast and to keep hope alive.

"As we usher in a new year, we should remember that it is a momentous year ahead - a year of bold action that should ultimately see the restoration and triumph of truth, justice and morality, especially at the helm of the nation's political establishment, as well as the leadership of the traditional, judicial, religious and the armed services", he stated.