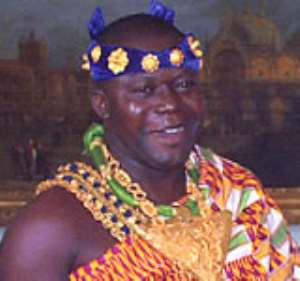 The Asantehene, Otumfuo Osei Tutu II, has challenged chiefs to package their discussions on political issues in a manner that would not suggest their lineage to any particular political party.

He said, for instance, that while nananom had the right to advise their people to exercise good judgement by choosing capable leaders for the country, they should be able to maintain their neutrality in their dealings with politicians and political parties in order to protect the noble image of the chieftaincy institution.
Addressing the end-of-year meeting of the Ashanti Regional House of Chiefs in Kumasi on Thursday, the Asantehene said he had opened his doors at Manhyia for all presidential candidates of the various parties, as well as other politicians and, therefore, expected his subjects to do the same.
Otumfuo, who is the life president of the house, also spoke on the haphazard development in various areas of the region, and warned that henceforth chiefs would be held responsible for building in waterways and other illegal developments.
He challenged the various committees of the house to undertake their work with all seriousness, because a lot more needed to be done to bring the development of the region to expected limits.
"I will want to see, for example, what we are doing about the Kumasi Prisons, especially where it is located," Otumfuo said.
The Asantehene called for the sustenance of the ongoing beautification of the Kumasi metropolis and, therefore, charged the Kumasi Metropolitan Assembly to put in more effort in this regard.

Otumfuo Osei Tutu said Kumasi could not afford to lose any focus as the Africa Cup of Nations approached.
He disclosed that within the year, the Judicial Committee of the house was able to dispose of five cases, while many other cases were still pending.
He also urged the committee to work harder in the next year in order to dispose of the many pending cases.
Otumfuo Osei Tutu was happy about the progress of work on the new offices of the house, and expressed the hope that they would be completed next year.