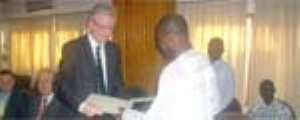 A high level development cooperation consultative meeting between Ghana and Denmark has been held in Accra.
Later, the two countries signed the minutes agreed upon for accelerated growth and concrete bilateral relations.
The Deputy Minister of Finance and Economic Planning, Professor George Gyan-Baffour led his delegation, whilst the Danish delegation was headed by Carsten Nilaus Pedersen, Under-Secretary for Bilateral Development Cooperation in the Ministry of Copenhagen.
Earlier, separate meetings were conducted with the Ministers of Local Government, Rural Development and Environment; Transportation; and Foreign Affairs.
The five main issues debated on were progress towards poverty reduction, aid effectiveness including harmonization and alignment; regional issues and present and future bilateral cooperation.
Others include cross cutting issues such as women empowerment and climate change.
The two delegations emphasized the importance of zero-tolerance policy on corruption.
They also agreed that stringent anti-corruption measures had to be in place at the district level so that the government's decentralization policy could be pursued with confidence.
Both delegations expressed concern over the continued regional imbalances, which caused disparities in the quality of life of Ghanaians.
The government reiterated that it would continue the decentralization and reform process on which it had embarked and that it was determined to reach the goals of shared growth, poverty reduction and good governance as outlined in the Millennium Development Goals.
The Ghanaian delegation confirmed the governments' efforts at improving the energy situation in the country and eventual removal of subsidies.
The two delegations expressed satisfaction with the good bilateral relations. This was particularly exemplified by the extensive development cooperation between Ghana and Denmark and by enhanced bilateral contacts such as the exchange of visits by ministers from both countries, and promotion of investments amongst others.
Later, the two delegations exchange documents on the bilateral meeting.
Minister of State at the Ministry of Finance, Dr. Anthony Osei Akoto initialed for Ghana whilst Carsten Nilaus Pedersen signed for Denmark.