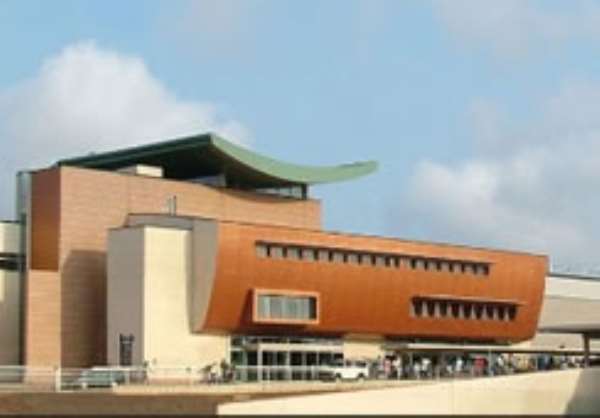 The Kotoka International Airport, Accra, Ghana's only international airport has been cited as one of the most popular airports with 419 fraudsters.
The airport is said to lead the list of airports widely used by fraudsters.
In a report published in the Timesonline, a UK online publication, indicated that a monitoring of suspicious purchases on the internet in the UK, showed that criminals bought more goods online with stolen credit cards on Christmas day.
While families settled down to a day of unwrapping presents and second helpings of turkey and mince pies, criminals were also indulging in another form of seasonal cheer in the most fraud-ridden Christmas Day in Britain's online history.
An estimated 8,500 fraudsters went online 25th December, 2007 to help themselves to electronic goods and gold-plated watches using stolen credit card details. Tracking systems for online criminal activity are now so sophisticated that fraudulent transactions can be monitored in real time and reveal in which part of the world online bandits are based.
The tracking showed that British criminals began shopping in earnest at 8am Christmas morning with activity peaking at 1pm. People who attempt to shop with stolen cards do not rest on Sundays or public holidays.
Thieves commonly obtain credit-card details by skimming (copying details during a transaction) or phishing (tricking owners into divulging information). They then sell the numbers on to fraudsters, who use the cards to buy items that they can sell for cash.
Retail Decisions, an online fraud detection agency, told The Times that online fraud increased on Christmas Day because criminals believed that websites let down their guard. Carl Clump, the company's chief executive, said that fraud increased 167 per cent yesterday compared with Christmas Eve. "Christmas Day is a popular day for targeting online sites because it is believed that retailers will have their detection systems down," he said. "If shops don't use automated systems then they are vulnerable."
The most popular postcodes for online fraudsters are usually in South and southeast London – Peckham, Woolwich and Thamesmead – but these were superseded on Christmas Day when activity increased in Portsmouth, Reading and Blackburn. Other, more surprising, origins for fraud yesterday included Twickenham, the affluent suburb in southwest London.
Spotting fraudsters in public is not an exact science, but their buying habits may give them away. The tracking of suspicious online purchases showed that the archetypal credit-card fraudster is a man wearing size 34 trousers, listening to a black 8Gb Apple iPod Nano, wearing a gold-plated Artemis watch and accompanied by a woman smelling of Emporio Armani's Diamonds perfume and Ruby and Millie cosmetics.
British online shops are also a popular choice for fraudsters based abroad. The main attacks on British shops from overseas yesterday were principally launched from Ukraine, the US and Sweden. Switzerland, The Netherlands, Poland and South Africa were also crime hotspots.
Mr Clump said that the criminals were mainly interested in items they knew they could sell quickly, but personal preferences also played a role. "Iggle Piggle Runaway Plush dolls are a runaway success with fraudsters," he said. "They are also keen on champagne, for which attempted fraud is up 6 per cent on last year."
The Nintendo Wii console proved popular with fraudsters before Christmas, but lack of availability meant that the Sony PlayStation 3 became the most purchased item.
A clue to fraudsters' backgrounds can also be found in the most popular flights bought with stolen or cloned credit cards. Kotoka International Airport, Accra, Ghana, leads the list, followed by Los Angeles and Amsterdam.
Luanda, in Angola, also features prominently, as does Norman Manley airport in Kingston, Jamaica.
Vancouver is another popular destination, possibly because it provides a convenient entry point to the United States. Mr Clump said: "We have seen this quite a bit. Earlier this year a popular destination was Pearson airport in Toronto, but operations seem to have moved to Vancouver."
Petrol stations are one of the biggest victims of dubious credit-card transactions. Alerts for suspicious purchases reached a peak for December at 3pm on Christmas Eve as criminals filled up their cars for long journeys to see their families. Illegal purchases of mobile telephone credit peaked at the same time.
The biggest growth area for online fraud is in the virtual world, with an emphasis on internet gaming. Items prized by players of massive multiplayer online games such as Second Life and World of Warcraft can be sold in the real world for cash. Players can earn money by building up characters and selling them, and they can increase their profit margin by paying for their subscription to the game with a stolen credit card.
Purchases of music and film downloads using stolen cards is also on the increase.
Christmas Day also marked a surge in new e-mail accounts opened by criminals as they created fake online identities for themselves. Just over half of such accounts were made using Yahoo! and Hotmail.