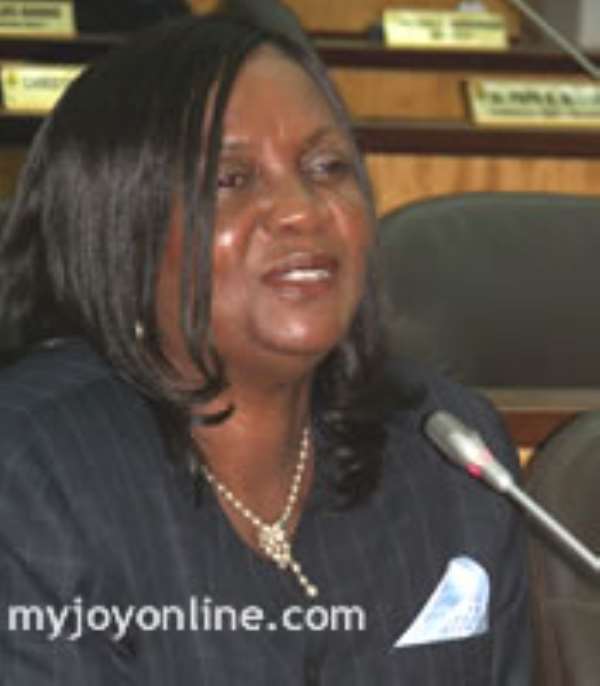 The Chief Justice, Mrs Georgina Wood, has called on Ghanaians, especially legal luminaries, to critically examine the decisions of judges and analyze them for the development of the judicial system.
Justice Wood explained that for sometime now the bench had no source of knowing what other institutions such as the Bar thought of their work as judges.
Mrs Wood made the call when she delivered the keynote address at the launch of a book, "The Role of the Supreme Court in the Development of Constitutional Law in Ghana" by Dr Seth Y. Bimpong-Buta, a former Director of' the Ghana School of Law.
The Chief Justice said such reviews were useful in helping the judiciary to revise and reflect on their work so as to update their knowledge on the current state of the law.
She said the publication had therefore come to fill the yawning gap in the development of constitutional law in the country.
She commended Dr Bimpong-Buta, saying that his work would contribute in a great measure to the development of democratic culture and good governance in the country.
She recommended the book to the bench, bar, teachers of the law, and all institutions and individuals who had an interest in the development and administration of law and justice.
Mrs Wood said the author had successfully demonstrated that the development of a democratic culture and good governance in the country did not depend on the Supreme Court alone, and that the complementary role of the Bar, civil society organisations (CSO), the media and the individual was crucial to the establishment of a truly democratic, peaceful and stable society.
Dr Bimpong-Buta said the book mainly praised the Supreme Court for some of its superb and courageous decisions since independence, that had helped in the development of constitutional rule in the country.
He said in doing so, he was also compelled to comment on some of the shameful decisions of the Supreme Courts that enabled politicians to trample on the rights of Ghanaians, with far-reaching consequences.
Launching the book, Mr Justice V.C.R.A.C. Crabbe, a constitutional expert, who had presided over the drafting of two constitutions for the country, said the study of the law could be found in judgements.
Justice Crabbe said the publication of the book was, therefore, a one-stop shop for lawyers, teachers, judges and law students in search of information on landmark judgements in the country.
Nana (Dr) S.K.B. Asante, a constitutional expert who helped in drafting the 1992 constitution and chairman for the book launch, said Ghanaians needed to appreciate the fact, with some sense of gratification, that the country had enjoyed an uninterrupted constitutional regime for 15 years.
Dr Asante, therefore, observed that the occasional calls for amendment of the constitution stemmed from a failure to appreciate the critical role of the Supreme Court in interpreting, clarifying, refining and consolidating the constitution.