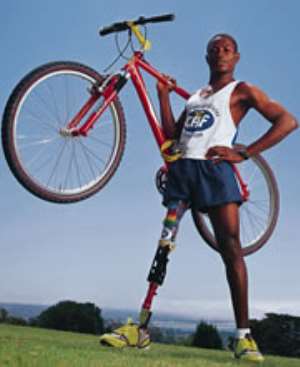 Emmanuel Ofosu Yeboah, Ghana's world-renowned advocate for the rights of disabled people, is to address the International Labour Organisation's event on "Decent Work for Persons with Disabilities" to mark the annual observance of the UN International Day of Disabled Persons on Monday 3 December in Geneva.
3 December has since 1992 been observed annually as the United Nations International Day of Disabled Persons (IDDP). It provides opportunities for Governments, organizations of disabled persons and society as a whole to focus upon and take stock of the gains to be made from the inclusion of persons with disabilities in every aspect of political, social, economic and cultural life.
This year's theme is based on the right of persons with disabilities to work on an equal basis with others. On this occasion, ILO offices both in Geneva and around the world will work together to raise the visibility of the barriers preventing persons with disabilities from full participation in the labour market and highlight efforts to overcome these barriers, focusing, in particular, on good practice and collaboration among key stakeholders—government, workers' and employers' groups, Disabled Persons Organizations and other NGOs.