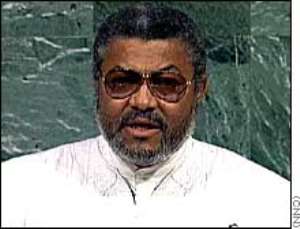 The next time you tune in to a radio, switch on your television set, log onto the Internet and hear or see former President of Ghana, Flt. Lt Jerry John Rawlings blasting tongues and preaching the Word of God, do not be surprised.
"I have been in the Ministry of God and humanity since my childhood," the former President told The Mirror through his spokesman and Special Aide, Mr Victor Smith, when contacted for his comments on a prophecy that a 42-year-old preacher man had openly made about him.
According to Mr Smith, the former President had no further comments to make on the issue.
But the man who made the prediction, Rev Charles D.K. Asare, who is also the General Overseer of the Charity Kingdom Ministries in Accra, says he has 120 pages of prophecies on the former military strong man.
He described the two-paragraphed letter he sent to The Mirror as a tip of the iceberg of things that "God has to say about Rawlings," especially the forecast that the former Ghanaian leader will soon quit politics entirely and use his exceptional oratory skills and super charisma to propagate the Word of God, especially on school campuses around the world.
"Thus says the Lord - You will preach the gospel around the world, especially on college campuses across the globe. I will use your hands to do many signs and wonders and miracles and to save many souls. You shall be an inspiration to many college students," part of Rev Asare's letter read.
"I created you for a purpose, Rawlings. That purpose is just about to be fulfilled. Not many days from now, I will take you away from active politics and place you in active gospel ministry," the note continued.
It said, "You shall be persecuted and suffer for the sake of the gospel, but you shall overcome and you will be glorified in the end. I will use you to glorify my name on the present earth. You have heard this prophecy again and again".
"This is your last chance to respond to my call," says the Lord. "I have already seen your penitent heart and willingness to obey. I have seen your repentance and heart of love and passion for souls".
"Respond to this call and I will prove to the whole world why I created you. I have given all the detailed guidelines and directions to my servant, Charles. He will show them to you if you respond to this call. My peace be with you," the letter ended.
According to Rev Asare he has never met Mr Rawlings before but is prepared to meet him and give him all of the 120-page prophecy book for him to read and decide.
"I really admire that man and I will be happy to meet him," he told The Mirror in a telephone chat.
The Mirror said its investigations have also revealed that this was not the first time that a man of God was foretelling Mr Rawlings' call as a preacher. It is reported that a Rev Amoako (deceased) also made the same prediction some years ago.
Jerry John Rawlings was born Jeremiah John Rawlings on June 22, 1947 in Accra. He first appeared on the Ghanaian political scene on May 15, 1979 when an unsuccessful coup d'etat he led resulted in his arrest and imprisonment. But his friends in the military led by Major Boakye-Djan overthrew the then military government of General Fred Akuffo in a coup on June 4, 1979.
Major Boakye-Djan and his men also set Rawlings free from prison" and installed him as head of the new government - the Armed Forces Revolutionary Council (AFRC).
At the time of the coup, Ghana was already far into the process of returning to civilian rule and general elections were already scheduled. Hence, the AFRC handed over power to Dr. Hilla Limann who won the popular vote in the election to establish the Third Republic. Less than two years later, Dr Limann's civilian and constitutional government was overthrown again by Jerry Rawlings on December 31, 1981. He then installed the Provisional National Defence Council (PNDC) regime. So in all Jerry Rawlings performed three coups d'etats in Ghana, two of which were successful.
He switched from being a military leader, retired from the military, then run and won in the 1992 elections.
After two terms in office he stepped down after the 2000 elections to make way for the winner, the then opposition NPP's candidate, Mr John Agyekum Kufuor.
Rawlings is married to Nana Konadu Agyeman-Rawlings and has four children; three girls and a boy. He is the joint recipient of the 1993 World Hunger Award.