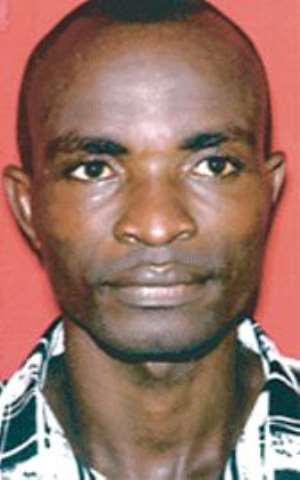 George Dompreh, 41 — Killer
An embittered plumber, George Awuku Dompreh, has executed a five-year-old threat by allegedly butchering his cousin in a brutal incident at Sakaman in Accra.
Five years ago, Awuku, 41, threatened to visit mayhem on his aunt, Juliana Osew Dukwaa, and proceeded last Thursday to inflict many machete wounds on Enoch Sakyi Bampoe Bekoe, the aunt's son, and fled into hiding.
The Crime Officer of Accra South West (Dansoman) of the Ghana Police Service, Chief Supt Stephen D. Anyan, confirmed the story to the Daily Graphic and said the police had mounted an intensive search for the suspect.
Awuku's deadly act last Thursday, snuffed the life out of the 28-year-old BSc (Agriculture) degree holder from the University of Cape Coast and employee of the Ministry of Food and Agriculture in Accra, whom close associates described as a young man with bright prospects.
Enoch was due to get married early next month to the daughter of a Reverend Minister of the Presbyterian Church whom he had courted for about three years.
"He was such a loving and caring guy. I haven't seen his kind before. He speaks with so much wisdom. He loves kids," Ms Mary Awo Sintim paid tribute to her departed fiancé.
Close associates of the family told the Daily Graphic that Awuku's action was closely linked to a deep-seated dislike he harboured for his aunt for kicking against his marriage about five years ago and for his supposed predicaments in life.
He was said to have developed hatred for his aunt, with whom he lived for eight years, and openly threatened to kill her and her nuclear family.
In a statement to the police, Mr Edmund Kotey Djane, who was the closest witness to the incident, said around 9.00 p.m. on Thursday, he was with Enoch at his (Enoch's) uncle's residence when Awuku knocked at the door and asked to see Enoch.
He said Enoch then went outside, apparently to discuss something with his cousin. But after about 25 minutes, Djane said he heard Enoch screaming for help.
Djane said he immediately rushed out, only to find Awuku slashing Enoch with a machete. As soon as Awuku saw him, he bolted.
He said he rushed to attend to Enoch, who was bleeding profusely, and with the help of some residents around, Enoch was rushed to the Korle-Bu Teaching Hospital. But their rescue mission did not yield positive results as Enoch was pronounced dead on arrival.
When the Daily Graphic visited Enoch's residence at Sakaman, there were a number of sympathisers who had gone there to console his grief-stricken mother and other family relations.
According to Madam Dukwaa, she had lived with Awuku for eight years after the death of his parents, adding that during that period, there was no ill-feeling between them.
She said Awuku neither smoked nor drank alcohol but was an intensely private person who was always quiet. She said he assisted her in various ways, including even cooking and carrying out other household chores.
Madam Dukwaa said about five years ago, Awuku started paying frequent visits to their village at Oworam, near Asamankese, and she later found out that his frequent visits to the village were in connection with a woman he had impregnated there and whom he intended to marry.
She said when she found out that the woman hailed from Baasare, she advised Awuku against the marriage, explaining that the woman's home town was too far and since his parents were dead, it would be difficult for the family to travel that far in case something happened and they needed to do so.
Madam Dukwaa said she later realised that Awuku was not pleased with her advice and even went ahead to have another baby with the woman.
She said Awuku kept telling some of their family members that he would kill her (Dukwaa) and her relations and commit suicide afterwards.
According to Madam Dukwaa, realising the seriousness of the threat, the elders of the family summoned a meeting to resolve the issue but Awuku did not turn up at the appointed time.
She said in spite of those developments, she related very well with Awuku and he did not display any evil intentions against her until one day when he visited her and started casting insinuations to the effect of asking whoever was causing his woes to desist from doing so.
When asked why she did not report Awuku's threats to the police, Madam Dukwaa said she did not consider that option because she had him at heart, adding that her husband had wanted to take that course of action but some family members prevailed upon them not to go ahead.
At the residence of Enoch's fiancee at Abeka, everyone seemed dumb-founded about the fate that had befallen their would-be in-law.
According to Mary, Enoch was a very principled, focused and determined person who endeavoured to achieve anything he set his mind on.
Her father, Rev Col E. B. B. Sintim (retd), said Enoch was a good man and that it was just unfortunate that such a terrible fate should befall him.
Story by Kofi Yeboah