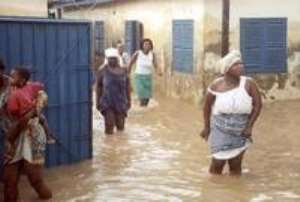 Communities affected by the recent floods have called on government and other donor agencies to support them with more food since the disaster has deprived them of their source of livelihood.
The communities also called for immediate measures to provide accommodation to those whose buildings collapsed during the floods.
Alhassan Saaka, 45, a blind man, told newsmen at Koubouri in the Builsa District in the Upper East Region, that although he lost all his properties, his family of 17 had received only one blanket and half a tin of maize since the disaster occurred.
He said the floods had destroyed their farms and they could not cultivate again until the onset of rains in June next year.
Another victim, Haruna Latifa, 20, also told newsmen at Boamasa in the West Mamprusi District of the Northern Region that the community received its relief items on October 15 and had since not been supported.
Mr Haruna Wuni, Unit Committee Chairman for Boamasa, said school enrolment within the area was still high after the floods although the schools lacked trained teachers and other education facilities.
He stated that the introduction of a Danish International Development Agency (DANIDA) functional literacy programme "School for Life" had also helped education in the community. The programme helps school dropouts and children who could not enrol in normal school, to attend nine months evening classes.
Abdul Aziz Sallah, a native of Yabaga, also called on government to construct a bridge on the Seseli, White Volta and Black Volta rivers in order to make it easy for them to travel to Tamale within 30 minutes instead of using the Walewale route which took them two hours.