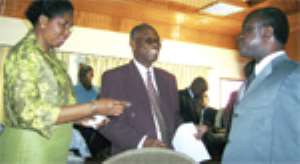 A DELEGATION OF high-level public procurement practitioners from commonwealth African countries are in the country to learn from Ghana's procurement system.
The delegation from the Commonwealth Public Procurement Network, as part of a two-week study tour, would learn about the country's Public Procurement Excellent Tool as well as share experiences with their Ghanaian counterparts.
At the second Commonwealth Public Procurement Network Forum in Accra last year, it was identified that Ghana had made considerable progress in the area of benchmarking, monitoring and evaluation in the public procurement sector and as part of a one-year action plan, members agreed on a study tour to Ghana.
As part of the tour, the delegates called at the Ministry of Finance and Economic Planning and the Deputy Minister, Prof Gyan Baffuor, in a remark noted that there had been a lot of improvement in the country's public procurement system since the introduction of the Public Procurement Law 2003 (Act 663).
Citing an example of a typical achievement that had been chalked so far, he said, "There has been a decline in irregularities."
According to him, the main reason for instituting the Public Procurement Law "was to have value for money, transparency and quality of services and products".
Oluwatoyin Job of the Commonwealth Secretariat, London, in a short remark said about 70 per cent of national budgets went into public procurement; hence the need to have a system to ensure there was transparency and accountability.
She on behalf of the commonwealth secretariat expressed gratitude to Ghana for "opening up her system and sharing her experience with others. This will help design common approaches to avoid wastages that are not necessary and offer prudent use of public funds".
The Chief Executive of Ghana's Public Procurement Authority (PPA), Mr. Adjanim Boateng Adjei noted that despite the achievements of Ghana, the PPA had discovered some loopholes in the Law and forwarded a proposal for amendments on some aspects of it.
He said the PPA's effort in the area of benchmarking, monitoring and evaluation in public procurement were in compliance with its functions under section 3 of the Act 663.
According to him, so far 213 entities had been assessed on the basis of their procurement activities in the area of integrity and transparency, institutional framework and management capacity.
"Despite the existence of a few problem areas, the overall performance indicated improvements."
By Emelia Ennin