Lithuanian Teenagers Arrested For Cocaine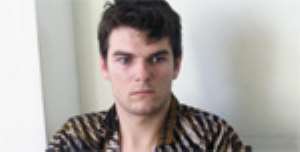 TWO LITHUANIAN teenagers have been busted by officials of the Narcotic Control Board (NACOB) at the Kotoka International Airport (KIA) in Accra as they attempted to smuggle whitish pellets believed to be cocaine to the United Kingdom (UK).
They carried the drug, weighing about 2.45 kilogrammes in a brown envelope hidden in a false compartment in their travelling bag, and swallowed a total of 54 pellets of the same substance. The drugs have a combined street value of up to £600,000.
Audrius Dilys, 19, who works in a warehouse and his 16-year-old student accomplice, Mindages Puckorius were arrested on Saturday November 3, 2007 on their way to board a Ghana International Airline (GIA) flight to Gatwick, UK.
NACOB officials stationed at KIA, on their routine checks, randomly picked up the pair and a search conducted on them showed that Dilys had hidden nine pellets of the whitish substance in his socks, and both of them had swallowed some pellets.
They had passed several security checks but NACOB officials got suspicious when Dilys begun to limp. "He was asked to take off his shoe and he refused," said a police source. "It was forcibly removed and several pellets of cocaine were found in it.
"They also admitted swallowing the stuff," the source added.
Speaking to the press at NACOB Headquarters, the Public Relations Officer of the Board, Francis Opoku Amoah said NACOB officials conducted a preliminary urine test at the KIA and it was detected that the two suspects had some foreign materials in their stomachs.
He said they were rushed to the 37 Military Hospital where an X-ray carried out on them confirmed the existence of the foreign materials.
The two teenagers, according to Mr. Amoah, were sent to NACOB Headquarters where Dilys expelled 45 pellets while his accomplice forced out nine.
Upon further interrogation, the two teenagers revealed that they were given the substance by a Nigerian whose name they claimed not to know.
Mr. Amoah indicated that the two teenagers said the Nigerian gave them the drugs at the Clemento Executive Guest House at Haatso near Madina and that one Stephen Sackey knew the Nigerian.
According to a source, the two Lithuanian teenagers had been on holiday in Ghana since last month.
The source indicated that they were supposed to have left on October 24, but were prevailed upon by the mysterious Nigerian to stay.
According to Mr. Amoah, Sackey has been picked up to assist NACOB officials in their investigations.
He said the two teenagers would be prosecuted after police investigations.
By Wisdom Peter Awuku