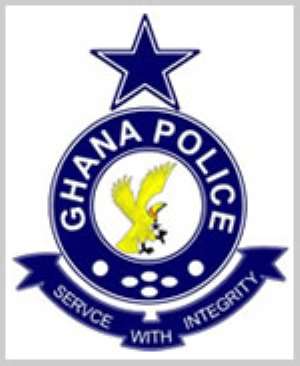 Bernard Kusi, 22, the third accomplice who escaped arrest last Saturday in the case involving the three suspected fake soldiers has finally been smoked out of his hideout.
Kusi's accomplices, Bright Asare and Kofi Amoateng, who were arrested for allegedly parading as soldiers on Saturday, led the Asawase Police to his hideout at Pankrono, a Kumasi suburb, early on Sunday morning where he was picked up.
He is currently in police cells awaiting further investigations and possible prosecution, along with his accomplices.

The three are believed to be among a gang of armed robbers terrorizing residents in the Kumasi metropolis.
The Asawase District Police Commander, ASP Andrews George Kumah, told the Daily Graphic Monday that his outfit had begun intensive investigations into the case and expressed the hope that the suspects would soon be prosecuted.
Meanwhile, he said Kusi had denied being a serving military man, contradicting the claim by Asare and Amoateng that he was.

According to Kusi, he served as a welder at the 4BN Workshop in Kumasi between 2004 and early 2007 but stopped working because he had an accident that affected his sight.

That notwithstanding, Kusi said he took much pride in wearing the military uniform because of the respect that people accorded him anytime he wore it. That, he said, had even motivated him to seek recruitment into the Army.
He also denied supplying the uniforms to his accomplices and explained that they all went to select them from a second-hand clothes dealer in Kumasi.
Concerning what happened on Saturday when his accomplices were busted, Kusi said Asare's girlfriend had lost a relative and he (Asare) asked Amoateng and him (Kusi) to accompany him (Asare) to the funeral at Abirem, near Kenyasi in Kumasi. They decided to dress in the military uniforms.
It was at the funeral that Warrant Officer (WO) II Ali Ibrahim asked them to follow him to his house so that they could change into mufti because it was not proper that they used the uniforms for such events. They obliged, but because he was riding a motorbike, he decided to follow them.
On the way, however, he sensed dan¬ger and escaped.

The Daily Graphic, in its Monday issue, published the arrest of Asare and Amoateng, two residents of Kumasi suspected to be members of a robbery gang who disguised themselves in illegally acquired military uniforms to unleash terror on residents of some communities in the metropolis.
Their arrest was made possible through the vigilance of WO Ibrahim who lured the suspects to the Asawase Police Station.
The story said angry residents of Asawase, who eventually apprehended the suspects after a hot chase, attempted to lynch them but the Asawase Police intervened and thwarted that plan.
Source: Daily Graphic