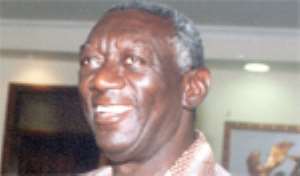 PRESIDENT JOHN Agyekum Kufuor has commended the Public Accounts Committee (PAC) for its public sittings, indicating that it falls perfectly in line with his government's aspiration of zero tolerance for corruption.
He said the sittings should be seen as yet another score in the nation's quest for democracy and good governance.
"These sittings symbolize our collective will to put behind us the dark side of our past and forge ahead with our quest for a truly open society in which probity and accountability is not just a mere slogan."
The Presidential Press Secretary, Mr. Andrew Awuni, briefing the media at the Castle, Osu, noted that while praising PAC, the President also bemoaned the potential losses as a result of the poor judgment of some public officials.
He advised Ghanaians not to see what is happening at the PAC sittings as a failure on the part of government but as the triumph of a new regime and a new culture that must be upheld and rewarded.
"Let us have a chance to ponder over what we did not have a chance to hear about in the past; the losses we made in the past that we will never get to know, not only during the era of the fourth republican constitution, but as far back as our minds can take us."
According to Mr. Awuni, government was committed to promoting a new culture of openness and transparency, describing that as a culture that "frowns at graft and incompetence, a culture of the rule of law and a truly democratic society where good governance remains the cornerstone".
He said President Kufuor and his government had demonstrated in several ways commitment to stamping out corruption through the introduction of appropriate legislation.
He maintained that in a bid to weed out corruption from the system, government had strengthened the public finance administration laws and the agencies mandated to fight corruption, and had as well repealed laws that hindered free speech, stressing that these measures had generally extended the frontiers of free expression and promoted a culture of openness and transparency in the country.
The Presidential Press Secretary went on that as part of efforts to fight corruption, government had repealed the Criminal Libel Law, introduced the Procurement Law, the Whistle Blowers Law, and strengthened the operational capacities of the Serious Fraud Office.
He mentioned that the Auditor General's Department, whose report the PAC sittings are based on, was appointed by government to the chagrin of some members of parliament and opposition politicians.
He therefore entreated the media and social commentators to refrain from skewed analyses and tendencies to misrepresent facts, but rather ensure circumspection and high professionalism in the treatment of these issues.
"It is early in the day to start pointing accusing fingers or judge the people who appear before the committee as criminals. Let us wait for the law to take its course."
By Emelia Ennin