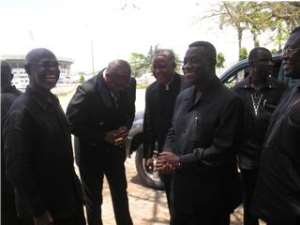 For those who have never believed that the 2002 flagbearership contest between Dr. Kwesi Botchwey and John Evans Atta Mills has long been put behind to two gentlemen, Friday, October 12, 2007, proved that the former Finance Minister and the former Vice President are people who hate to be rooted in the past, and prefer to move on in life.
The venues were, the Ridge Church and Osu cemetery, and the occasion, the burial service and interment of, Mrs. Shirley Ababio (Nee Bisson), a pillar in the PNDC/NDC governments, who passed on to glory last month at the age of 72.
The burial service and interment though sad events, had its other side of a joy-filled gathering as lots of former functionaries of the PNDC/NDC governments met and reminisced on times when they had to mortgage their lives to getting a derailed economy and national agenda back on track.
It was at these events that Kwesi Botchwey and John Evans Atta Mills, demonstrated beyond all reasonable doubt that what happened in 2002 was nothing to destroy their years of fond acquaintance as they hugged each other like friends do, complimented each other for "looking good" and shared some jokes about the 2002 contest and other matters.
Feeling very comfortable amongst his former colleague Ministers (the venerated Dr. Mrs. Mary Grant, Prof Atta Mills, Ato Awhoi, Kwamena Awhoi, Nana Ato Dadzie, Madam Sherry Ayitey, Hon E.T. Mensah, Dr. Don Arthur, Squadron Leader Clend Sowu, Commodore Steve Obimpeh, Mrs. Valerie Sackey, among others) which ought be the case, Dr. Kwesi Botchwey was in his elements as he switched from, English, to Ga, to Twi, To Fante, to split the sides of his former colleagues.
Indeed, the former PNDC/NDC government functionaries could not help recounting the invaluable role that Mrs. Shirley Ababio played in those heady days of the PNDC government especially when the woman had to sanitize a government scholarship system that continued to pay monies to people studying abroad long after they had completed their courses or even after they had dropped out of school.
Of course, the sanitization of the scholarship secretariat also included making sure that scholarships, went to deserving Ghanaians and not to non-deserving, friends, concubines, and relatives of government officials.
Dr. Kwesi Botcwey, is a lecturer at the Fletcher School of Law in the United States.