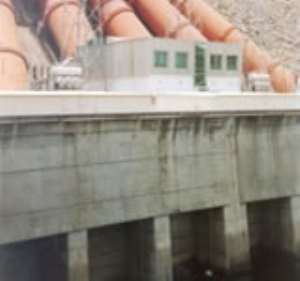 The war of attrition between a suspicious, almost skeptical public and optimistic, prayerful engineers managing the Akosombo Dam appears far from over.
Contrary to speculations that the Akosombo Dam would soon be shut down due to declining low water, the Volta River Authority (VRA) on Friday said the two generating units were running reliably.

Former Energy Minister in the NDC regime, Ato Ahwoi, on Thursday asked the government to shut the dam to save it from total collapse, however a statement signed for Ms. Abla Fiadjoe, Acting Director of Corporate Affairs of the VRA, said per technical analysis carried out and the critical monitoring system put in place, VRA had taken measures to operate the Station with two of the units at a level lower than 235 feet in "a technically safe but professionally cautious manner".

"The VRA wished to assure all electricity consumers and the general public that the two generating units currently at Akosombo are being operated reliably and that we have no plans to shutdown the Akosombo Generating Station," it said.

The statement said the VRA would continue to run the two generating units and review the situation at the end of July.

"We wish to stress that this is not the first time the Akosombo Generating Station is being operated at levels below 235 feet," the statement stressed.

Going back to history, the VRA said in March 1966 it operated at 234.60 feet and for about three months to as low as 234.0 feet on June 8, 1966 when it reached the lowest ever levels with the units.

"This is compared to the 126 Megawatts being produced from each of the units at this time following the successful retrofit of the Akosombo Plant," the statement said.

The Authority said it had also taken requisite action to ensure that water for the reservoir, which was not only meant for power generation, was available for other uses, including water supply to the communities in the catchment area downstream Akosombo.

"The VRA wishes to assure the general public that it has the matter in hand and is with the assistance of Government, implementing various emergency measures which have to date helped to contain the situation albeit at lower than normal water levels," the statement noted.

The Authority said it had also taken note of certain public sentiments expressed largely through the media that the VRA was telling a different story to the Government than it was telling the public explaining that: "This is patently false."

It said Ghanaians and consumers of electricity on the other hand needed to appreciate the fact they could contribute to improving the situation by adopting serious energy conservation measures.
Source: GNA