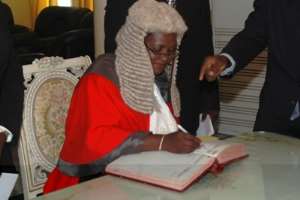 President John Agyekum Kufuor has sworn into office Justice Georgina Theodora Wood, as Ghana's first woman Chief Justice, challenging her to provide the right leadership to give the Judiciary a new image.
Be fair, impartial and humane, he said, after administering to her the Oath of Allegiance, the Judicial Oath and Oath of Secrecy at the Credentials Hall of the Castle, Osu.
Present at the function were Vice President Alhaji Aliu Mahama, Mr. Ebenezer Begyina Sekyi-Huges, the Speaker of Parliament, Professor Daniel Adzei-Bekoe, Chairman of the Council of State and Justices of the Supreme Court.
President Kufuor reminded her that being the first woman ever to head the country's judiciary, her conduct would blaze the path for gender balance in the society.
He said: "If you are able to perform your role fairly and with a sense of balance, the whole nation would come to accept the importance of gender balance. We are praying that you do not disappoint."
President Kufuor pointed out that laws were essentially about the development of the people and said this demanded that she became imbued with statecraft.
She should make an input in the administration of the State to enable Ghana to develop with vision and fairness.
He touched on the high turnover of Chief Justices suffered by the country within the past five to six years and said he suspected it might have resulted from the heavy pressure on that office.
He urged: "As the Lady comes into this office, we all have to pray that she would be visited by the blessings of God to have the stamina and balance of mind to last her term."
Chief Justice Wood said she had no illusion about the heavy burden placed on her shoulders and the expectations of the people.
Many women, she said were also looking up to her for inspiration and pledged not to let the nation down.
She declared that the challenges facing the Judiciary were surmountable and that through the collective will and effort of all, she was in no doubt that, the confidence of the institution would be restored.
Chief Justice Wood said her predecessor, the late Justice George Kingsley Acquah, laid a solid foundation for far-reaching institutional reforms which, she was going to build on.
Earlier, Mr Joe Ghartey, Attorney General and Minister of Justice, described her as fair, firm and just, someone who was not afraid of speaking the truth.
Source: GNA