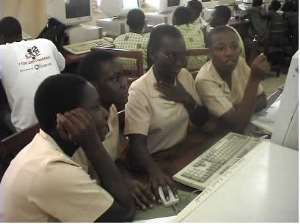 Archbishop Porter Girls' team during the Competition.
Archbishop Porter Girls' Secondary School has emerged as winners in the Western regional round of the i2CAP-"I Too Can Program" computer programming competition. The contest was held at the Ghana Secondary Technical School in Takoradi for second cycle schools in the western region on Saturday 19th May 2007.
During the three hour competition, contestants were required to demonstrate basic programming skills such as writing a program that uses loops to write basic multiplication table and also develop Tetris, a popular computer game played in a field of columns and an unlimited number of roles.
I2CAP is designed to generate the enthusiasm of the youth in the use and application of ICT. It is specially packaged to develop skilled human resources to facilitate the growth of the ICT sector in Ghana. The competition was organized by the Ghana-India Kofi Annan Centre of Excellence in ICT with funding from the Finatrade Foundation.
In an address, Mrs. Rebbecca Effiba Dadzie,Western regional Director of Education said ICT is now regarded as fundamental bases for wealth creation and national prosperity in the new economic order. "Developing countries are benefiting from ICT at an increasing rate. In order that Ghana is not left behind, there is the need to train a pool of ICT manpower and skilled labour necessary to meet the demands of the country" she added.
"Finatrade believes that cultivating the next-generation of technologists is a vital long-term investment that will help ensure that consumers and businesses have the tools and solutions needed to thrive in our incredibly dynamic, information-driven society today and in the future". Mr. John Awuni, Excutive Secretary, Finatrade Foundation.
Archbishop Porter Girls' Secondary was presented with a set of books and five brand new desktop computers. Bompeh Secondary Technical had three computers and a set of textbooks for placing second. Two desktop computers and a set of textbooks were presented to Asankraguah Secondary for placing third. All participating schools were presented with a set of textbooks.
Ebenezer Kye-Mensah (i2CAP Coordinator)
Tel. (021) 679546
Cell: 024 4832199
DATE:28/05/07