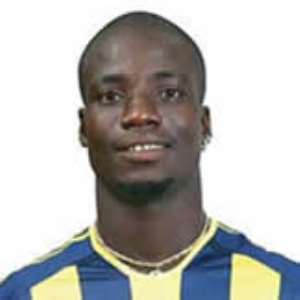 Black Stars captain Stephen Appiah is unlikely to be home for holidays any time soon for health reasons.The 'Tornado' is recovering from a successful knee surgery that is expected to keep him away from the green turf for about two months.
Speaking exclusively to myghanafootball.com from his home in Turkey, Appiah said although the operation went very well,he has been ordered by doctors to stay put for another ten days at the minimum."
Yes, i have to relax here in Turkey to undergo some theraphy before i can walk and start travelling"
The surgery stems from an injury he suffered in January, but with Fenerbahce clinching the Turkcell Super Lig title, Appiah decided to have the surgery just before the end of the season to give him ample time to regain full fitness.
"Now that my club have won the Turkish title, I think it is the appropriate time for me to attend to this long-standing knee injury,"
Appiah told BBC Sport at the time . The 26-year-old star has been the subject of various transfer speculation, including one that would send him back to his former club, Italian side Juventus.
There is no denying that Gordon Strachan has made the player his number one choice for the summer. "
He has wonderful ability and he is an excellent reader of the game" That was the verdict of the Celtic boss after watching Ghana draw 1-1 with Australia in London.
If Scotland is not Appiah's final destination, it could well be the English Premiership where the player's agents are believed to be quietly working on potential deals with Aston Villa and West Ham.
This follows the shock request by West Ham captain Nigel Reo- coker to leave the club after he handed in a transfer request, according to the player's advisor.

Reo-Coker's advisor Tony Finnigan said: "I can confirm that Nigel has handed in a transfer request. I am surprised as captain he is being allowed to leave.
However, nothing has been determined and Appiah indicated that he is hoping to be 100% fit before the start of the 2007-2008 campaign, as well as the 2008 Nations Cup. Appiah's native Ghana will host the Nations Cup in January.
"The most important thing for me is to be fully fit to play for my country at the Nations Cup. My country is hosting the event next year and I am doing everything possible to keep myself fully fit and in shape for tournament. That is the ultimate goal."