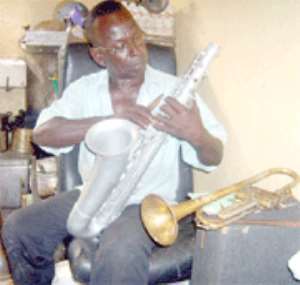 There are no signposts indicating directions to Okyere Asare's workshop. The surest way to get there is to ask about the instruments repairer from the women selling smoked fish, vegetables, fruits, trinkets and all manner of items around the old UAC building behind the Kaneshie Market in Accra.
You are then directed to an inner room in the building strewn with a variety of brass wind instruments.
Despite the inconspicuous location of Okyere Asare's workshop, many faulty saxophones, trumpets and trombones from here and other countries in the sub-region easily find their way there for repairs.
Once in the hands of the 62-year-old man, the instrument leaves the premises refurbished and sounding again like how the player wants it.
"All the top horns players in this country know me and have even spread word about me throughout West Africa. Instruments come from Cameroun, Nigeria, Senegal and other places for fixing. There are a few other repairers in town but the players say they like my attitude and attention to quality work so they always come to me."
Asare was born into the work he does. He learnt from his father who was a saxophonist and instrument repairer.
He could play the tenor saxophone by the time he left St Paul's Technical School at Kukurantumi in the Eastern Region but later took to singing and sang for bands like the Diplomats, Ambassadors, Ramblers and the Shangri-La Quintet.
He still finds time to sing with the Precious Stones band though his primary preoccupation since 1984 when his father died, has been to repair wind instruments.
His clients here include saxophonists Tex Korley, George Amissah, Kofi Karikari and Nii Noi Nortey. Churches also bring their equipment and he has for years fixed the wind instruments for the John Teye School. He imparts basic maintenance titbits to interested clients.
"Different problems are brought for solution. Sometimes there is a leakage on the horn or a player cannot get the right tone. The valve compartment of a horn is like a car engine. It's output reduces after constant use. I sometimes get new parts from abroad. Other times I salvage from other instruments."
Asare does not have any trainees under him. He says repairing instruments requires a certain passion and dedication which cannot be imposed on anybody. He believes he can make more money doing other technical jobs but his love for music and musicians keeps him stuck to fixing wind instruments.
"I still do this job because I want to be of service to musicians. It's a pity if someone makes his living through playing the horn but cannot work because his faulty instrument cannot be properly fixed. My ability is a gift from God and I don't want to put it aside. There may be a big blessing coming from God for me for my dedication to this job. Who knows?"
Asare says he is in touch with an entrepreneur to establish a centre where horn players can bring in old ones, pay some difference in cost and walk away with new ones. The old equipment would then be refurbished for sale.
No deal has been reached yet so for the moment he continues to ply his skill in the inner room in the old UAC building behind the Kaneshie market.
Story by Nii Laryea Korley