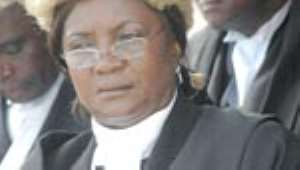 All is set for the woman nominated by President John Agyekum Kufuor as the first female Chief Justice in Ghana to be quizzed by the Appointments Committee of Parliament.
The vetting of Mrs. Justice Georgina Theodora Wood by the Committee is scheduled to take place on Thursday, 31st May, 2007 at Parliament House.
Mrs. Justice Wood, a Justice of the Supreme Court was nominated by the President following the death of the substantive holder of the position, Mr. Justice George Kingsley Acquah.
The nomination is in consonance with Article 144 (1) of the Constitution.
Pursuant to its Standing Orders, Parliament has also scheduled a public hearing of the nominee on the aforementioned date at 10.30am.
The Clerk to the Appointments Committee has asked members of the general public to submit written memorandum on the nominee to the vetting body not later than 25th May, 2007.
A lot of speculations preceded the final nomination of Mrs. Justice Georgina Wood, a name which gained popularity during the hearing of the infamous missing cocaine saga.
She won the hearts of many during her headship of the committee which was formally dubbed the Georgina Wood Committee.
A number of high profile suspects appeared before her Committee as she dealt with what had come to be regarded as Ghana's most publicized narcotic story.
Affirmative activists consider her nomination as a feather in the cap of President Kufuor whose creation of a Women and Children's Affairs Ministry had already won the hearts of Ghanaian women.
When she scales through the hurdles at the public hearing, which she certainly would, the development would go down in the history of the judiciary as the first.
Born on June 8, 1947 she attended the Bishop's Girls School and the Methodist School both in Accra.
After completing the Wesley Girls High School she proceeded to the University of Ghana, Legon where she bagged an LLB degree in 1970.
She also undertook a post-graduate Officers' Training at the Police College and later joined the Judicial Service as Magistrate Grade II. She was later promoted to Magistrate Grade I.
Mrs. Justice Georgina Wood was appointed a presiding judge of the Appeal Court in 1991.
Last year, she chaired the Georgina Wood Committee, which held an enquiry into the missing 77 parcels of cocaine aboard the MV Benjamin vessel.
She also probed the missing 588kg of cocaine which went missing at Mempeasem, East Legon.
The woman is also the Chair of the Alternative Dispute Resolution mechanism (ADR).