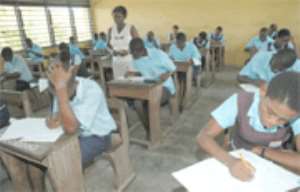 An Assistant Director of Education and two others have been picked up by the Obuasi police for examination malpractices in connection with last month's Basic Education Certificate Examination (BECE).
David Asiedu Amponsah, the assistant director, was arrested with Dominich Amoako Mensah, a mechanic with MBC, a subsidiary of AngloGold Ashanti, and Mary Akoto, head of Neumann Preparatory School at Kwabrafoso in Obuasi.
A source at the West African Examinations Council (WAEC) in Accra told the Daily Graphic that on Thursday, April 26, 2007, Mensah was arrested in the morning with the Agriculture examination papers which should have been written in the afternoon.
It said Mensah then led the police to Amponsah, who was the supervisor at the Aboabo examination centre under New Edubiase, as his source of supply of the examination questions.
"Dominich again led the police to Mrs Akoto, head of Neumann Preparatory School, as the one who allegedly gave him ¢2 million to purchase the question paper," the source said.
The source also indicated that the police had been able to retrieve the photocopier that was used to copy the question papers, adding that the three, who had been remanded in prison custody, would re-appear at the Obuasi Circuit Court today.
The source added that the Ashanti Regional police also arrested another person who had photocopies of the Agriculture papers for sale in Kumasi.
It explained that the police intercepted him between Opoku Ware Secondary School and Kumasi Central, saying that "we are trying to trace the source of the papers".
It said the envelop containing the question papers was apparently cut open between the examination depot and the examination centre.
Under the WAEC Law (Act 719), a person who before or during an examination is found to be in possession of an examination paper or found to have fore-knowledge and makes use of an examination paper or contents in any manner would pay a penalty of a minimum of ¢12 million and a maximum of ¢30 million and/or not more than two years' imprisonment, among other sanctions.
Story by Emmanuel Bonney