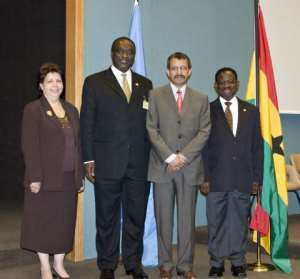 FROM LEFT TO RIGHT, H.E. MRS. KHADIJA .R. MASRI, AU AMBASSADOR, HON. MR. ALAN KYEREMATEN, MINISTER FOR TRADE, PSD, PSI, H.E. MOHAMED SALECK OULD MOHAMED LEMINE, MAURITANIAN AMBASSADOR & PRESIDENT OF TRADE & DEVT. AND H.E BAAH-DUODU.jpg (415k)
Ghana's Minister of Trade, Industry, Private Sector Development and President's Special Initiatives, Honourable Mr. Alan Kyerematen, briefed the 41st Executive Session of the Trade and Development Board of UNCTAD on April 20, 2007 on preparations being made by Ghana to host UNCTAD XII.
He reaffirmed the full commitment of his Government to ensuring a successful Conference, and Ghana's strong support for UNCTAD and its objectives.
Prior to that he called on the Secretary-General of UNCTAD to discuss matters relating to the Conference. He was accompanied to the various meetings by Ghana's Ambassador and Permanent Representative, Mr. Kwabena Baah-Duodu and other officials of the Ghana Permanent Mission, Geneva.